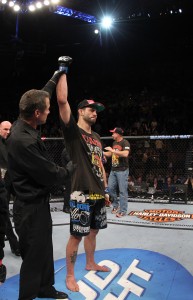 Hey everybody. What a great night of fights last night. As usual, I covered UFC 143 for Getty Images and UFC. The annual Superbowl weekend event was originally set to feature a Welterweight Championship battle between heated rivals Nick Diaz and Champion Georges St-Pierre. However, a training injury sidelined St-Pierre and gave Carlos Condit his big shot at UFC gold. The new contest between Diaz and Condit was established to be for an interim championship belt, since St-Pierre could be out of action for up to a year.
As is sometimes the case, the undercard fights nearly stole the show. In the first bout of the night between debuting fighters Stephen Thompson and Dan Stittgen, the KO of the Night award was handed out when Thompson landed a great three strike combo, finishing with a high kick that put Stittgen out for good. Matt Brown also had a great performance in knocking out Chris Cope. Newcomer Henry Martinez looked great in his debut, but came up just a hair short in a split-decision loss to Matthew Riddle. The Submission of the Night award was won by Dustin Poirier who transitioned beautifully between different submissions on the ground, finally tapping out Max Holloway with a mounted triangle/arm bar.
The new UFC intro aired in-house to get the crowd fired up, and I must say it was quite awesome. Before the fight, I had a chance to grab shots of a lot of celebrities in attendance, including my friend Wilmer Valderama, Vanilla Ice, Benji and Joel Madden, Jaime Pressly, MC Hammer, Roy Jones Jr, and all-time hits leader Pete Rose. MC Hammer was actually there for the first fight of the night, which is impressive if you've ever been to a UFC in Vegas. Barely anyone is in the arena for the first 2-3 fights.
Starting off the main card was Ed Herman weathering a good storm from Clifford Starks and eventually putting him away with a rear choke submission. Renan Barao handled Scott Jorgensen with a unanimous decision, running his unbeaten streak to 28 fights. Welterweights Josh Koscheck and Mike Pierce went the distance, as well, with Koscheck winning a split decision. In my opinion, I thought Pierce did enough to win. In the co-main event, Fabricio Werdum completely dominated the always-tough Roy "Big Country" Nelson, scoring a unanimous decision. Both men were awarded the Fight of the Night bonus after their performance.
The main event didn't end up being the slugfest everyone had hoped for, but was still a decent, highly technical fight. Carlos Condit ended up scoring a unanimous decision victory Nick Diaz with the judges' cards reading 48-47, 49-46, 49-46. A lot of people apparently feel Diaz should have won. I personally don't see how, but I'll concede that I don't get the best view of the fight from a judging perspective. I had Diaz winning only one round, with one more being close. A very frustrated Diaz appeared to announce his retirement from MMA in the Octagon after the fight, stating that he's "tired of playing this game." Condit captures the interim UFC Welterweight Championship with the victory, as well as a brand new Harley Davidson motorcycle. Quote of the night comes from Condit at the post-fight presser when asked what Diaz was saying to him throughout the fight. He said at one point, after he threw a spinning backfist, Diaz said to him "Oh, so we're throwing spinning shit now?" Carlos said, "I had to laugh at that."
We tried out some strobes for the first time during live fights, with a couple lights mounted at different angles, and on different channels. I think they turned out great, especially the ones I shot from the press box overhead. This is definitely something we will be doing again. Big thanks to Nick Laham for the idea and allowing me to use them to capture a few shots. Also thanks to our always trusty assistant Mike Roach for helping with the rigging and testing.
Below is a selection of shots I captured throughout the night. Check out the rest from all our photographers on Getty Images and UFC.com.

UFC 143 Diaz vs Condit – Images by Joshua Hedges