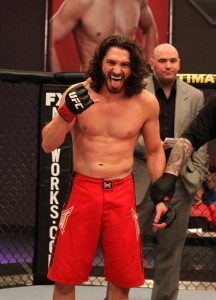 Hello again everyone. It's been a couple hectic weeks since we got back from Australia and I haven't had the time to post a proper update. Less than twenty four hours after arriving back in Vegas from Sydney, the new season of The Ultimate Fighter debuted with the first ever live episode featuring sixteen elimination fights. Jet-lagged and sick, I hauled my gear over to the TUF Gym to shoot the fights. Luckily, I was splitting duty with my buddy Al Powers, who scored some great shots of his own and really helped me out. Also working in our favor was the fact that all the fights would only be one round instead of the normal two. For the most part, this seemed to make the fighters come out looking to finish and resulted in a much more exciting collection of bouts. I think the early favorites this season have to be Justin Lawrence and Myles Jury.
The most difficult aspect of shooting The Ultimate Fighter is the lack of light in the gym. The exposure during the fights is at least two full stops less than the typical exposure for pay-per-view events, which means I have to shoot at a much higher ISO than I would prefer and also a slower shutter speed. The end result tends to be less keepers and an overall decline in sharpness, as well as a higher amount of noise. Nonetheless, we still came up with some good shots.
As the season continues, I will do my best to post regular blog updates.
Below is a selection of my shots from the first episode. Be sure to check out the full take on Getty Images.

The Ultimate Fighter Live – Episode 1 – Images by Joshua Hedges