By now, everyone knows what a huge fan I am of ThinkTank Photo and their products and service. In my opinion, they make the best bags and attachments, hands-down. Over the years, I've collected quite an assortment of ThinkTank items. Over the past few months, my trusty Shape Shifter backpack has started to show its age and I had begun looking at options for a replacement. I've spent several weeks looking at various different options and talking to a lot of colleagues to get their insight on what they like and don't like.
My ultimate goal was to replace the Shape Shifter with a backpack that I could fit even more gear into. I almost went with Dave Black's method of using a hiking pack and just wrapping all my lenses and cameras in Domke wraps. His method is definitely the most efficient means of transporting a lot of gear in a carry-on size bag. But, I'm a creature of habit. Over the years, I've become quite dependent on the divider system found in most camera bags.
One of the top bags on my list to look at was the ThinkTank StreetWalker HardDrive. My interest got back to the ThinkTank staff and they were gracious enough to overnight me a bag to demo and review.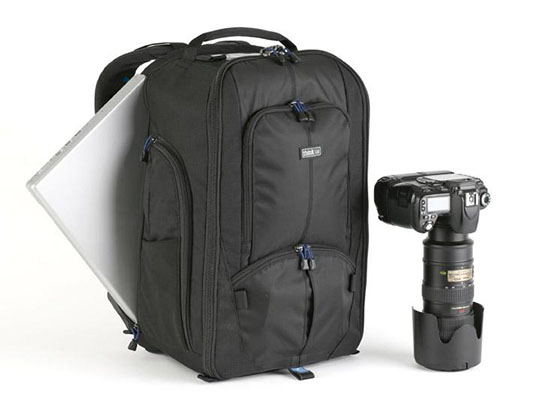 My first impression upon opening the box was that the bag was much beefier than my Shape Shifter. Though in terms of size, it's not a whole lot bigger than a fully-stuffed Shape Shifter. I quickly started configuring the dividers and tried to fit all my everyday gear from the Shapeshifter into the StreetWalker. This mostly consists of things like hard drives, laptop chargers, extension cords, wifi adapter, phone chargers, headphones and various cables. All that didn't even take up half the space in the bag. I was then able to add one of my 1Dx bodies, two lenses, three pocketwizards and trigger cables, extra batteries, and my wireless mouse. And of course, my Macbook Pro went into the separate dedicated laptop slot.
The next test was to see how much heavier it was than the Shape Shifter, and it wasn't a huge difference. The Streetwalker feels much more comfortable on my back, though. The more rigid design helps distribute the weight better and it doesn't seem to have as much of a tendency to sag.
I'm leaving for London for my first assignment with the new bag on Monday, and I'll be able to provide a little more information on how well it travels on planes. I don't suspect I'm going to have any issues. The Streetwalker is a few inches taller than the Shape Shifter, so it may not be allowed to go under the seat. It's rare that I travel with a bag under the seat anyways, so that won't be a big deal for me. So far, I'm liking the bag a lot, and I'm looking forward to putting it through the paces over the next few weeks.