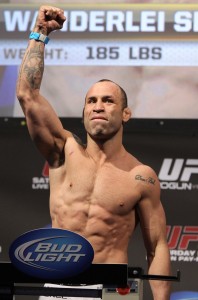 Today, all the fighters on the UFC 139 card weighed in at the HP Pavilion to make their fights official for tomorrow night. Before the official weigh-in, as is customary, UFC hosted a Fight Club exclusive Q&A session with welterweight fighter Josh Koscheck. Though Josh was a bit subdued, he still managed to raise a couple stirs from the crowd. He mentioned that he has considered changing his name to "Boo Koscheck" so that when he enters the arena, people Boo'ing will be cheering for him. He also expressed his sadness for friend and teammate Cain Velasquez after his loss last weekend to Junior dos Santos, but mentioned that Cain was back in the gym again Monday morning after the loss. Finally, in answer to a common question Koscheck always receives, he said that he would rather move up to 185 pounds or stop fighting completely instead of facing teammate and fellow 170 pound contender Jon Fitch.
As the weigh-in began, there appeared to be issues with the scale, or perhaps the operator, as several fighters missed weight. It began with Shamar Bailey who came in 2 pounds over and was noticeably upset about it. Next, Nick Pace weighed in well over the limit, but his overage was apparently known about ahead of time and he came in 5 pounds over the limit. His opponent, Miguel Angel Torres, also mixed weight. Torres was also noticeably upset and turned to UFC President Dana White to say something. After that, the rest of the guys on the card made weight without (much) event. Dana had to separate Rick Story and opponent Martin Kampmann after Story got in Kampmann's face and Kampmann, in turn, pushed him away.
In other news, I received a call last night that I had been bumped up to first shooter for the event due to an unfortunate scheduling conflict. Though I never wish for someone else not to be able to do the job, I'm quite happy and excited to back on the box for a big show again. And of all the shows we have lined up, this is probably the best option as far as excitement. So, I will do everyone proud and make the most of my opportunity. I'm really looking forward to it.
Here are some of the weigh-in selects. Check out UFC.com and Getty Images for the full take.

UFC 139 Weigh-In – Images by Joshua Hedges