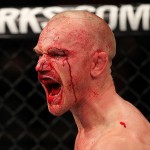 Hello again everyone. I wanted to post a brief update after last night's fights at the Palms for The Ultimate Fighter Live Finale. I covered the festivities for UFC and Getty, as usual. The fights overall were great. There was a good mix of great submissions, great knockouts, and great drama.
The Pearl Theater at the Palms is a great venue to shoot in for a few different reasons. It's a very small, intimate venue. When it's full, the crowd feels like they are right on top of you and gives a great energy. The Octagon for shows inside the Pearl is a smaller Octagon by five feet across. So, you can shoot really tight on everything, even all the way across the cage. The light inside the Pearl is also very good due to the lighting truss being about two or three feet lower than normal. This gives you about 1/3 to 2/3 of a stop extra exposure, which for me means shooting at 1/1600 or 1/2000 shutter instead of the normal 1/1250.
This season of The Ultimate Fighter introduced a number of talented fighters to the world, as well as a number of emotional storylines. It was announced near the end of the season that all the fighters who were not medically suspended would be competing on the show's live Finale, which I don't believe has happened since the very first season finale in 2005. Unfortunately for Mike Rio, Andy Ogle, James Vick, and Vincent Pichel they were not able to compete due to commission-mandated suspensions. They will all have their chance at a future UFC though.
The preliminary fights started off with a bang when debuting Erik Perez pulled off a slick submission against John Albert in the night's opener. However, the controversial finish was boo'd heavily by the crowd as referee Kim Winslow ruled that John Albert verbally submitted to an arm bar. Albert and everyone else protested, but to no avail. UFC President Dana White tweeted that Albert would receive his win bonus after the "ridiculous stoppage".
Massachusetts native Joe Proctor made short work of Jeremy Larsen, earning the TKO victory in the first round with a knee followed by punches on the ground.
The third bout matched up Team Faber's number-two pick Cristiano Marcello against Team Cruz's number-two pick Sam Sicilia. The fight quickly turned into a slugfest. Sicilia seemed to be tiring in the second when all the sudden he started landing heavy shots, eventually finishing Marcello with a knee followed by a few punches.
Next, making his long-awaited UFC debut was Myles Jury as he took on Chris Saunders. After a bit of feeling out, the two started engaging and Jury ended up securing a guillotine choke submission in the last minute of the first round.
The last preliminary fight pitted this season's resident bad boy, Chris Tickle, against the flashy Tae Kwon Do fighter Daron Cruickshank. While this fight had it's moments of excitement, it also was a slower paced grappling bout at times. Tickle lost a point in the first round for an illegal upkick, and in turn lost the fight by a 29-27 score on all three judges' cards.
The main card opener was a real treat as Team Cruz's number-one pick Justin Lawrence battled Team Faber's John Cofer. The back-and-forth stand-up battle went into the third round where Lawrence landed a highlight real head kick knockout. The fight earned Fight of the Night honors, as well as Knockout of the Night for Lawrence.
Next up were two young featherweights seeking their first UFC win as Max Holloway battered Pat Schilling en route to a unanimous decision victory. Holloway landed a number of brutal body shots that made me cringe at times.
The Ultimate Fighter season 12 winner Jonathan Brookins took on Brazilian Charles Oliveira in the next feature bout. Brookins has to be one of the most calm fighters in the cage I think I've ever seen. Always smiling, always having fun. He never panics, even when he's in real trouble. Brookins managed to land some good punches on Oliveira early and produced a couple cuts, but in the end he saw a guillotine choke attempt of his own get reversed and found himself caught in a guillotine choke he could not escape. Brookins was forced to tap out.
The co-feature was the final bout to crown a winner for this season of The Ultimate Fighter. Team Faber's number-one pick Al Iaquinta was matched up against Michael Chiesa, who after the passing of his father in the opening days of the show, was looking to finish a storybook ending to his amazing run through the competition. It did not take Chiesa long at all to write that ending as he was able to secure a choke and put Iaquinta to sleep in under three minutes. A stunned Iaquinta sat in his corner in disbelief afterwards as Chiesa celebrated with his mother and sister in the Octagon. Chiesa noted he would have never been on the show if not for his father and said he owed it all to him.
The main event pitted two top welterweight contenders against one another with a potential number-one contender fight on the line for the winner. Jake Ellenberger stormed out of the gates and battered Martin Kampmann with a quick barrage that sent the Dane to the canvas. Ellenberger swarmed him and continued punching on the ground, but was not able to land enough solid shots to warrant a stoppage from referee Steve Mazzagatti. Eventually, Kampmann was able to recover and survive the round. Kampmann came out in round two and began landing punches of his own. He landed a couple nice 2-3 punch combos and had Ellenberger reeling. After a flurry, Ellenberger stumbled backwards against the cage. Kampmann clinched and delivered a knee that dropped Ellenberger. Kampmann followed up with a couple punches on the ground as Mazzagatti dove in to stop the bout. Kampmann earned Knockout of the Night honors in another thrilling come from behind victory.
On a side note, I spent some time with Martin Kampmann after the post-fight press conference as he was being stitched up. I can't help but love this kid's attitude and approach to fighting. He is one of the most exciting fighters in the sport today, and he truly fights for the fans. Hopefully now he will get his shot at either Interim Welterweight Championship, or at least the number-one contender spot that he deserves.
Below is a gallery of my shots from the night. Please post any comments or questions.

The Ultimate Fighter Live 1 Finale – Images by Joshua Hedges