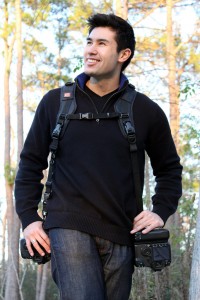 I was recently turned on to CarrySpeed straps by a recommendation from photographer Gary Fong. For several years, I have religiously used BlackRapid straps for all my assignments, and for the most part, have been happy with their performance. Sure, there have been some nuances here and there, but overall they served their purpose. I turned a number of people on to BlackRapid, though I had no agreement or compensation to do so. I just liked their stuff. Now that those straps are getting old and worn out, I'm in the market for a new set of straps. I thought before buying more straps from BlackRapid, I would see what else is on the market before investing more money in gear.
I will make the same declaration here before I start getting into the meat of the review. CarrySpeed has not compensated me in any way, and I have no agreement or deal with them. I bought these straps with my own cash to try out, and I feel obligated to give an honest review.
After careful consideration, I decided to order the FS-PRO camera sling strap, as well as the CS-Double 2-camera strap system. I also purchased a handful of various mounting plates and adapters for all my different bodies and lenses.
The customer service from the start was quite pleasant. I placed my order on a Wednesday before my trip to China. I wasn't sure if they would arrive in time, but had hoped for the best. I was very surprised when they arrived the next day. I unpacked everything right away and familiarized myself with all the pieces and assembly. CarrySpeed pays close attention to the small details. The straps were packed neatly, with all pieces wrapped and labeled individually; along with a complete and detailed instruction set for assembly and operation. Unfortunately, I didn't take any pictures of the unboxing. Frankly, I was too excited to get them out and use them.
Setup took just a minute or two, and then I was able to attach the cameras and begin adjusting the straps. The construction is very high quality. They are very comfortable on the shoulders, especially the double strap. There is quite a bit more padding than other straps on the market, and they are very beefy and secure. Additionally, the FS-Pro has a non-slip material on the underside of the strap that really does a good job of keeping the strap in place.
One simple piece that I'm really happy with is the strap lock that you use to set the position of the camera when it hangs to your side. On other straps that I've used, this lock was weak and would often come unsnapped so the camera would just slide all around and pull the strap forward or backward off your shoulder. In fact, on all my BlackRapid straps, I gaff taped all the strap locks to stop them from coming undone. There is no fear of that on the CarrySpeed straps. Their locks are much stronger and stay put when you lock them. They hold so well that they take quite a bit of force to get them unlocked if you need to move them. That's a good thing. This is one of those things that you're going to set it once and not want to mess with it again.
All the straps have double stitching, and the quick release buckles have an extra locking mechanism as a failsafe for the straps. The fact that the straps are detachable is a wonderful feature in itself, and the extra locking mechanisms to prevent them from accidentally becoming unhooked are a great extra bonus.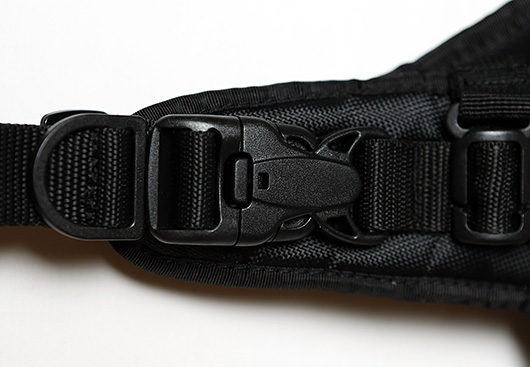 Installation of the various ballhead attachment points is straightforward and easy. They've made all the slots in the screws wide enough for any coin to fit in, so you don't have to go hunting for a screwdriver to make adjustments or install/uninstall them. Of course, I'm more likely to have my leatherman on me than a coin these days, but that works just as well.
There are various different types of attachments to mount on the bottom of your cameras and lenses, and all have their benefits depending on the situation and how much money you're willing to invest.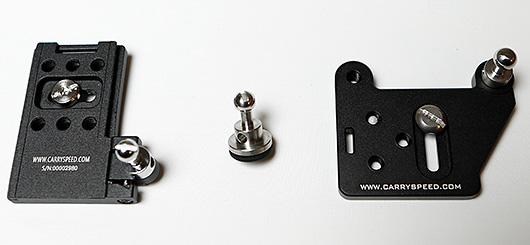 I elected to install the offset folding camera plate on the bottom of both my Canon 1Dx bodies, and the standard offset plate on the bottom of my 70-200mm lens. The folding post is a brilliant feature. I really love the flexibility of that plate, and I like the creative thinking of the designers who came up with the idea.
A big advantage CarrySpeed offers over many of the other strap makers in this class is the offset mounting points on the plates. This allows you to leave the plate mounted to the camera or lens when you want to attach it to a tripod, monopod, floor plate, or anything else using the 1/4-20 mounting screw. For me personally, this isn't a huge advantage, but I do use a tripod from time-to-time. For others who use a tripod more often, this will be a welcome feature to improve efficiency.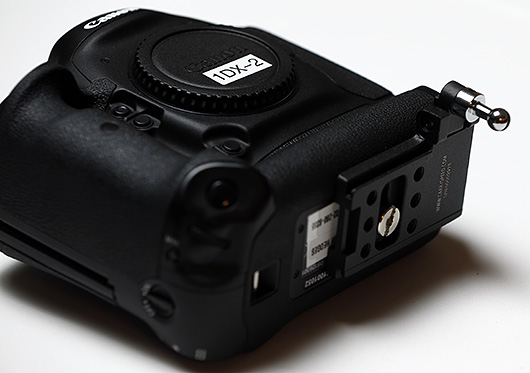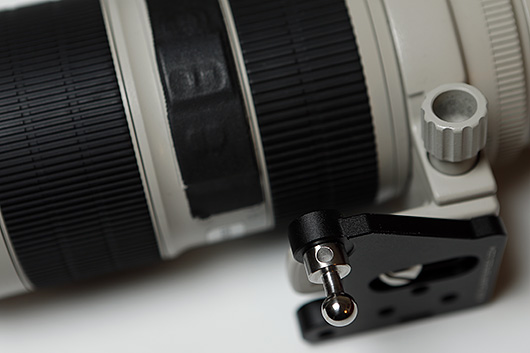 The camera plates do present one challenge for me, though. The cameras don't fit into my ThinkTank bags quite the same as normal now with the mounting plates attached. I could always take the plates off every time I pack the cameras, but that becomes tedious after a while, and sometimes you just don't have the time to fiddle with it. Luckily, I was able to adjust the dividers a bit and flip the camera position to fit comfortably, and thus far it has worked just fine.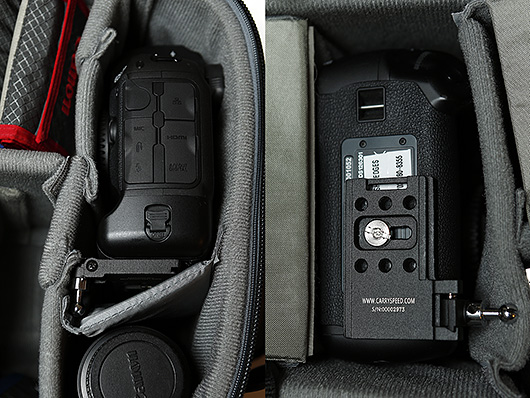 One note on the installation of the folding offset plate. At first, it might seem like the proper way to install the folding plate is with the ball joint folding towards the back of the camera body. This is not correct though and will create some issues for you if you try it. I wanted to try it both ways and see what was more comfortable. I can't see a reason you would ever need to turn it around facing the rear of the camera. Just point it forward like the photos illustrate in the instructions and on their website.
Now, the folding plate is a bit bulky and is a little awkward to hold when shooting vertically. Not a huge issue for me, it just takes a little getting used to. I have big hands, so perhaps it could be more of an issue for people with smaller hands.
The Ball joint locking mechanism itself is very secure and I feel much more comfortable letting the camera drop during a quick change. However, the ball joint presents a few challenges – 1) there is not a lot of side-to-side play in the ball joint, which is good because it prevents the metal pieces from contacting the camera or lens and scratching them, but it also is a bit awkward feeling at first. After a bit of use, I got used to the new feeling pretty quick; 2) connecting and disconnecting the ball joint is tough to do quickly, if you don't plan to remove the cameras at all then it's fine, but I find myself throughout an assignment removing my cameras and re-installing them from time-to-time. After a few hours, I was able to get it down pretty good. It would be nice, though, if there were some soft of quick connect/disconnect mechanism.
The two straps come with an additional support strap for telephoto lenses. I personally won't use this a lot for my own assignments, but I could see if being a nice feature for someone taking strolling through a park or zoo taking scenic pictures with a longer lens. Nonetheless, it's another creative thinking solution by the design team, and it comes free with the straps.
My only real complaint about the straps is the length. Being tall, my biggest complaint with all camera straps of this style has been that they are not long enough to hold the cameras at a comfortable position on my hips. I would like to see the straps be 4-6 inches longer with the ability to cinch up some slack. This is more an issue with the single strap, but would also be nice to have the length a little longer on the double straps, as well. Perhaps maybe an option to have custom straps made would be a possibility, or even just an extra strap spacer that could be clipped into the triple-locking release buckles. I would gladly pay a few bucks extra for this.
I was able to put these straps through their paces for a week in China covering the UFC Macao event. All in all, I am very happy with the CarrySpeed straps and would gladly recommend them to anyone in the market for this type of strap. I will be keeping my eye on them for future products, enhancements, and improvements; and I will definitely be purchasing more equipment from them.
For more information on CarrySpeed straps, check out their website at www.CarrySpeed.com.