I sit here on another overnight plane, headed to the east coast. As I look back on the week past, I can't believe where I've been and what I've been apart of. Last week, I covered the first ever UFC event in China from the Venetian Resort in Macau.
I flew into Honk Kong on Monday night, which is now the longest flight I have ever been on – 14 ½ hours from San Francisco to Hong Kong, in economy class, no less. I joke, it's not all bad. I got comfortable tucked into my window seat with my laptop and a pile of TV shows to get caught up on. Of course, I would have preferred if my upgrade cleared, but I also knew it wasn't very likely. The flight surprisingly went by quick, even though I slept very little.
Once on the ground in Hong Kong, I met my greeter and was whisked away to immigration and baggage claim. The immigration process in Hong Kong was one of the easiest I've experienced over the years. Before I knew it, I was in the back of a very nice Mercedes on the way to my hotel. I checked in at the Marco Polo Hotel in Kowloon and ordered room service before crashing.
Tuesday morning, I had a meeting at the Harbour City Mall, which conveniently was attached to the hotel. I headed over an hour early and walked around the mall, hoping to find some good deals. Sadly though, it was full of stores much higher end than my budget or preferences called for. We took a look at the space where the press conference and workouts would be held on Wednesday. It was a nice open area near the sports stores. It was originally designed to be a basketball court for kids to play on, so it was quite spacious.
After the meetings, I got my first experience on the TurboJet ferry across to Macau. The ferry terminal was about a 4-5 block walk from the mall/hotel, which isn't as fun as its sounds when carrying all your luggage. With some help of my co-workers, I made it just fine. Ferry tickets are about $150 HKD, which is about $20 US. The ferry trip is about an hour across the South China Sea to Macau. From there, it's another 20 minutes in the cab to the Venetian. I checked in at the Venetian and drug all my gear upstairs. The rooms there are quite similar to the Venetian in Vegas if you've ever stayed there. If you have, well, let's just say they're nice. Venetian is known for being an all suites hotel, and they are true suites, not just the holiday inn style. After a quick burger at McSorley's Irish Pub, it was off to bed for the night.
Up and at it the next morning, I was headed back on the ferry to Honk Kong for the press conference and open workouts. The idea of doing them on the same day, in the same location, was brilliant. Let's hope that trend continues.
The press conference kicked things off with just 4 fighters on the dais – main eventers Rich Franklin and Cung Le; Chinese fighter Tiequan Zhang; and Korean fighter Dong Hyun Kim. There was a solid turnout of media in attendance, though the press conference only lasted about 25-30 minutes. The new Octagon girls were in attendance – Jessica Cambensy and Ye-Bin Kang. There were a number of photo ops with and without the girls after the press conference concluded. Once all that was out of the way, they simply moved the tables and podium and laid down mats on the stage for the "demonstration" part of the day. This was just a normal open workout, with the added bonus of Urijah Faber providing commentary and explaining techniques to the media. Only Rich Franklin and Cung Le worked out, and only for about 10 minutes apiece. After that, there were some more photo ops. The day rounded out with Urijah Faber and Chuck Liddell teaching a couple techniques to some kids from a local outreach program in Hong Kong.
After that crazy long day, we boarded the ferry back to Macao. I was able to get all my edits done on the boat in transit and uploaded everything quickly when I returned to my room.
Thursday was now a much easier day, having done both the press conference and open workouts already. I only had to shoot portraits of 4 fighters, and then do some more editing. The portrait setup was a little simpler than I would have liked, but when you're traveling internationally, you can only bring so much with you. I was able to source some light stands and a backdrop in Hong Kong, so I only had to travel with four Canon 600EX-RT speedlites and my various Honl Photo softboxes. If I haven't mentioned these before, let me just tell you David Honl puts out an amazing group of products. His speed strap system is the easiest and most portable light modification system I have ever used. Check out their full range of gear at HonlPhoto.com.
The fighters all showed up right on time, and for the most part were very cooperative. I noticed that Hyun Gyu Lim was a little less attentive than the other guys and he was refusing to remove his sunglasses for the photos. After finally convincing him to remove the glasses, I noticed his eyes were a little more sunk in that usual. He definitely looked to be struggling with the weight cut. I had visions of the last time I shot Anthony Johnson, when he came in 6 pounds overweight. But, we still had 32 hours until the weigh in, so I was confident Lim would make the weight.
I was met with a surprise the next morning when I woke to find the Lim v Mitchell fight had been cancelled after Lim apparently passed out in the sauna cutting weight and had to be sent to the hospital. The weigh ins were scheduled for 6pm, two hours later than normal. And with no Q&A session or anything before, I had a free day to get caught up on emails and have a nice lunch. I headed down to the arena around 4:00 pm to get setup and scope out spots to shoot from. The setup rarely changes for a UFC weigh in, so I typically end up shooting from the same spot every time. I just have to make sure I get there relatively early before anyone else steals my prime real estate.
Aside from two guys having to strip down butt naked and weigh in behind the towel, the event went off without a hitch. Everyone was on weight, despite several fighters complaining about the jet lag from the long travel and time difference from America. I think most agreed though that it was worth the extra bit of suffering to go through this experience.
Fight day finally arrived, and I was anxious for it to begin. I had been having trouble sleeping off and on all week, but on fight day I awoke just after 3:00 am. I tried to take naps throughout the day, but didn't have much luck. The first bout didn't start until 8:45 pm, so it was a little tough finding stuff to occupy myself in the meantime. I ended up arriving at the arena around 5:00 pm, hoping to have an internet connection to be able to get some work done. Unfortunately, the communications department took quite a while to run my internet line and I was left twiddling my thumbs for quite a while. I sat through rehearsals a few times and watched as some of the fighters started showing up to warm up inside the Octagon.
It was finally time for the first bout, and that opening scrap was a fun one. Riki Fukuda battled Tom DeBlass to a decision victory. DeBlass looked much better at middleweight and gave Fukuda all he could handle; though it was pretty clear Fukuda did enough to get the nod. The crowd was filling up quickly and was very enthused.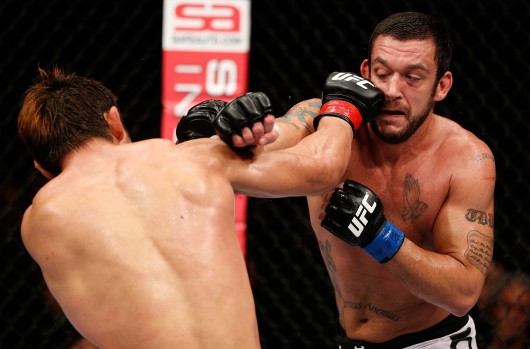 The flyweight bout between John Lineker and Yasuhiro Urushitani was a barn burner. Lineker had Urushitani hurt a few different times throughout the bout, but could not put him away. Both guys are very fun to watch and this was one I thought would contend for fight of the night. Lineker took a unanimous decision victory.
The next few fights were decent, but nothing really stood out to me. The Danzig/Gomi fight was very close and could have gone either way. In the end, I felt Gomi did enough to get the decision, though Mac Danzig definitely disagreed.
The crowd went crazy for the Chinese fighter, Tiequan Zhang, as he battled newcomer John Tuck. You may remember Tuck from his appearance on The Ultimate Fighter Live when he gave Al Iaquinta all he could handle in the elimination fights, suffering a badly dislocated toe in the process. While Zhang had moments where he looked to be making a stand, Tuck was in control for most of the fight and looked quite comfortable despite making his UFC debut in the home country of his opponent. I had high expectations for Tuck, and was very impressed with his performance.
The fight that stole the show was Thiago Silva taking on Stanislav Nedkov in the co-main event. Nedkov came out firing early and was battering Silva. He would come in with 3-4 punches then go for a takedown, and then they'd separate and repeat again. Nedkov appeared to be in control of the first two rounds, having dropped Silva towards the end of the second round with a big right hand. But Silva managed to survive as Nedkov used a lot of energy trying to finish him. In the third round, Nedkov came out looking noticeably exhausted. Silva started teeing off on him right away with leg kicks, and then following up with overhand rights. At one point, turned his head and walked away, then looked at the referee like he wanted to quit. Silva rushed him quickly, took him to the ground, and quickly secured the arm triangle submission. Great performance by both guys. I was very surprised to see Nedkov tire. I'd really like to see him at 185. His frame is too small to compete against the big guys at 205.
It was finally time for the main event. Vietnam born Cung Le was to take on USA's Rich Franklin in his return to 185 pounds after several years fighting at 205 and 195. The fight did not go at all as I thought it would. Rich came out throwing his usual kicks to the legs and body with a few straight lefts mixed in that didn't do a lot of damage. Then, all the sudden, Le landed a right hook and the fight was over. I didn't even know I caught the punch until about 15 minutes later when I loaded the card up to start downloading. It all happened so fast, everyone was in a bit of shock. Cung was jumping around the Octagon like he just won the title, and later he stated it was just a lucky punch. I understand he's just being humble, but there was no luck in that. He timed it and placed it just right. It was a fitting end to another great event.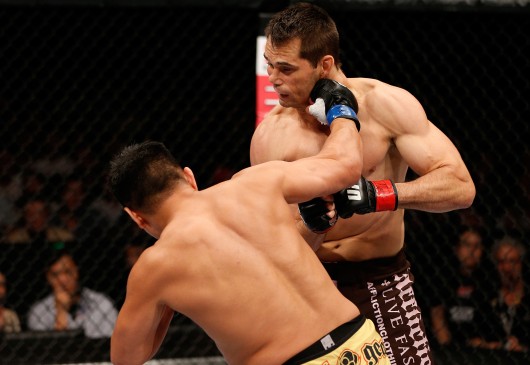 So now, it's on to the next one. As I write this, I'm en route to Montreal for UFC 154. But before that, please check out my gallery of shots from UFC Macao: Franklin v Le.

UFC Macao: Franklin v Le – 11-10-2012 – Images by Joshua Hedges