I apologize for neglecting my blog so badly the past few months. I promise to do a better job and keep everyone better informed of my whereabouts around the globe in 2013 and beyond.
As you may or may not know, I'm smack in the middle of a 15 day road trip. I spent the first 9 days traveling to and working in Sao Paulo, Brazil. This was the first time I had ventured outside of the airport in Sao Paulo, and I was pleasantly surprised. The weather was the first surprise. We were met with rain as soon as we walked out of the terminal to get our car, and for the most part, the rain didn't let up for the rest of the trip.
The one thing I was told about Sao Paulo before I arrived was that the traffic is even worse than Rio de Janeiro. I don't know if I just have good luck or people were lying to me, but I found that statement to be completely false. It took only 25 minutes to get to the hotel from the airport, and all our journeys between the hotel and the various shooting locations were much quicker than planned, as well.
The skies parted for a few hours last Wednesday for the UFC open workouts at Parque Anhangabaú near the city's center. The usual cast of characters, including the main event and co-main event contestants, and a handful of local talent, put on a show for the crowd that gathered. The location was pretty neat, and the weather was much more accommodating than I have been used to during outdoor workouts in the past.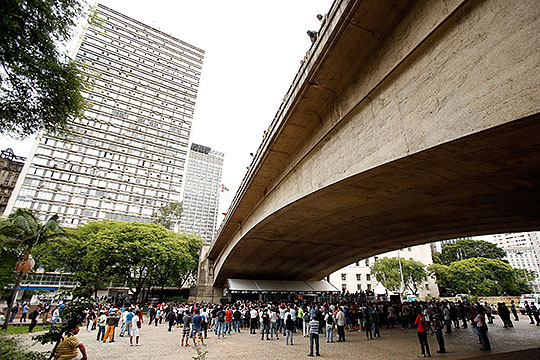 After the usual pre-fight routine of portraits, press conference, and weigh-in, it was finally fight day. I headed over to Ibirapuera Gymnasium way early to get a lay of the land and scout locations for remotes. Unfortunately, I couldn't find a spot I felt was safe to remove a remote unattended throughout the night, so I canceled that idea.
The first preliminary fight started about 8:45 pm local time. With eleven fights on the card, it was shaping up to be a long night. The arena was more than half full for the first fight and the fans erupted when their countryman, Francisco Trinaldo, finished C.J. Keith with an arm triangle choke. For the most part, the crowd was pretty calm after that, until Sao Paulo and TUF Brasil 1 finalist Daniel Sarafian entered for his bout against C.B. Dolloway. Unfortunately for the crowd, Sarafian came out on the losing end of the decision and the fans showed their displeasure by booing Dolloway so loudly that I couldn't hear a word he said in his post-fight interview.
Finally, at nearly 1:30 am, it was time for the main event. Michael Bisping walked out first to a strong chorus of boos. His opponent, Vitor Belfort was met with a nice reaction from the crowd, though nothing like Sarafian experienced. Vitor looked fired up and ready to destroy.
And destroy he did. Belfort controlled the action in round one, landing a number of significant kicks and punches. Then, in round two, he unleashed a left high kick to the side of Bisping's head, putting him down on the canvas. Belfort followed up with a series of hammer-fists forcing referee Dan Miragliotta to stop the fight. The crowd went nuts, as did Vitor.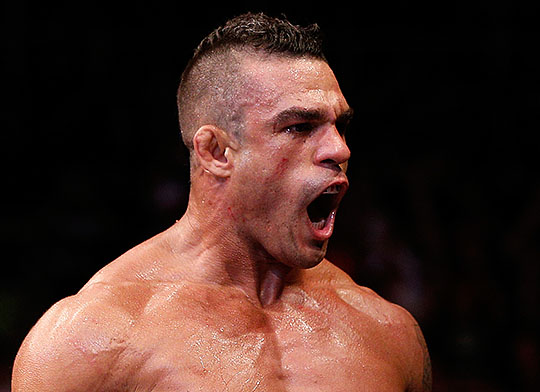 After completing my edit and packing everything up, I was en route back to the hotel by 3:30 am. I had some more work to do once I got back, so I didn't finally make it to bed until sometime after 6:00. My alarm rang bright and early at 9:00 am for my next assignment. I headed back to the arena to cover the elimination fights for TUF Brasil 2. And that's about all I can say about that for now.
The next two days were also spent covering various aspects of the upcoming reality show, until I was finally in a car headed back to the airport about 5:30 pm Tuesday evening. I flew straight to Chicago for this week's UFC on FOX card; landing at about 6:00 am local time Wednesday morning after an 11-hour flight. I had just enough time to get to the hotel and take a shower before I was back in a car headed to the UFC Gym for the open workouts.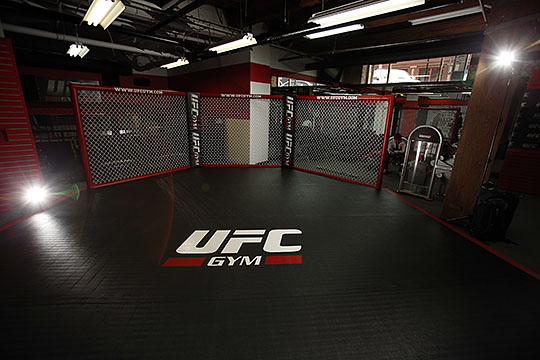 This particular UFC Gym location had just been transformed from it's previous moniker, LA Boxing. I mean that literally as apparently they were still under construction the day before. Everything had that "brand new, wrapped in plastic" smell. I did a quick once-over and decided on locations to place a few speedlites. The overhead florescent lights did not provide the look I was going for, so of course I came prepared with four of my Canon 600EX-RT units. And, for the next four hours, I clicked away as various fighters cycled through the gym to workout for media. The whole day was really a blur, but I actually came away with several shots I was happy with.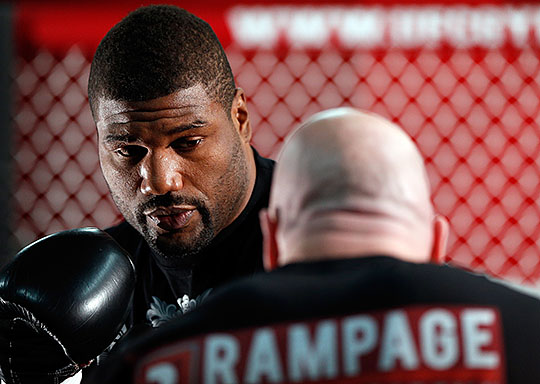 After the workouts, I headed back to the hotel to work on my edit and finally had a chance to relax and take a look out the window. It had just started snowing. It was then that I realized less than 36 hours before, I was wearing shorts and flip-flops. Now I was freezing in my hotel room and couldn't get the heater hot enough.
The usual press conference followed on Thursday, and today saw us head back to the Chicago Theatre once again for another weigh-in. I love it when we do weigh-ins inside these old historic theatres. They create such a cool atmosphere and make for really nice wide photos.
All fighters made weight and nothing much of interest happened, other than a moment of uncertainty before Quinton "Rampage" Jackson stepped on the scale for his final UFC weigh-in. He appeared to apologize to the commission official and UFC coordinator Burt Watson, and you could see Watson was visibly upset as he stepped back while Rampage hopped on the scale. But then the weight was announced as 204 pounds. I'm not sure what exactly was said, but I was expecting him to be well overweight after seeing that unfold. After making weight, Rampage proceeded to get in the face of his opponent, Glover Teixeira, and give him a tongue-lashing as they faced off.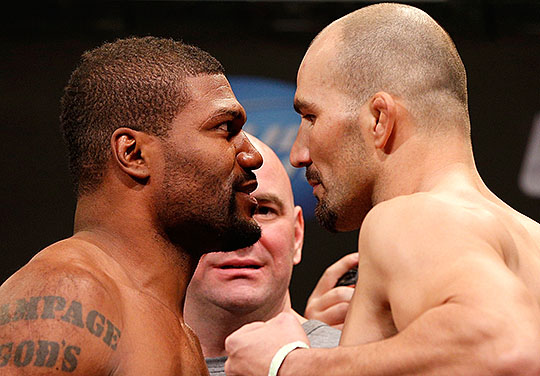 Tomorrow is yet another early call to head over for a long day at the arena. I'll do my best to get some shots up before I head back home Sunday morning. But, until then, I leave you with a few slideshows from the last couple weeks.

UFC on FX 7 Open Workouts – Images by Joshua Hedges

UFC on FX 7 Weigh-in – Images by Joshua Hedges

UFC on FX 7: Belfort v Bisping – Images by Joshua Hedges

UFC on FOX 6 Open Workouts – Images by Joshua Hedges

UFC on FOX 6 Weigh-in – Images by Joshua Hedges