Upon returning from Australia a couple weeks ago, I checked my email and found an offer that sounded too good to be true. Amazon had sent me an email with recommendations based on my past purchases, and one of those recommendations was the Canon EOS-1Dx. It was listed as "in stock". I have had two different orders for the 1Dx on pre-order since February through B&H Photo and Amazon, so I was shocked when I saw this. I immediately clicked through and hit "Buy Now". Still thinking there must be some catch, I chose the overnight shipping option for $3 more (I'm an Amazon prime member). Low and behold, the next day a brand new 1Dx arrived.
I unpacked everything and started familiarizing myself with the camera as I would be putting it through the paces the next day at the Angels v Rays game in Anaheim. The first thing I noticed was that it felt a bit heavier in my hand than the 1D Mark IV. Looking online, I see specs that put the 1Dx at approximately 180g heavier than the Mark IV. However, it's not so heavy that it becomes annoying.
The 1Dx also has a more contoured grip that fits the hand (at least my hand) much more comfortably than the previous models.
Another thing you'll notice right away about the 1Dx is the additional buttons. They've now mirrored all the buttons so that you can access the same functions whether holding the camera vertical or horizontal. They've also added a couple new buttons, which can be assigned to various different functions. These come in quite handy.
One feature that took me a little bit to get used to, but proved to be a great addition/change is the way they re-worked the functionality of the registered AF points. For the Mark IV, you register a point and then you can recall that point using the multi-function button. This works ok when you have the camera horizontal, but it's impossible shooting vertically. The 1Dx gives you the ability to set the AF-ON and AE-Lock (*) buttons to separate focus points. So you just have to glide your thumb to the side a couple of millimeters to change your focus point. And, you can see both focus points in the viewfinder at all times. The registered point blinks, and the currently selected point is solid. I like to set my registered point to the left side of the screen and then the current point to the right side. Then it's just a matter of pressing "left button" or "right button" when focusing. No more worrying about finding the multi-function button with my thumb, then moving back to the focus button and re-acquiring focus, only to find my subject has moved back to the other side of the frame. Like I said before, it takes a little getting used to, but once you've retrained your brain, it's a much more powerful and efficient way of focusing.
I fired a few frames of the kids at the house just to test things out and see if there were any differences in color, contrast, and the like. One thing I was told by others who upgraded is the 1Dx has way more contrast at the default settings than the Mark IV. For me, this is a good thing because I always found the Mark IV to look a little flat under most conditions. I found those statements about the contrast to be true. After some use, I still actually added a little more contrast in the custom settings of the camera later.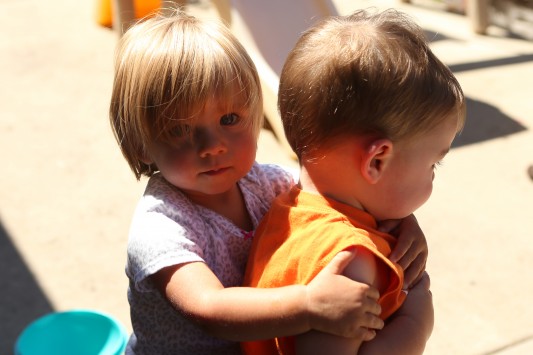 The first real test for the camera though would be my first MLB assignment at Angel Stadium, shooting the Tampa Bay Rays against the Los Angeles Angels of Anaheim. The game started an hour earlier than normal at 6:10 PM, so the field was still at least partially lit by the sun for the first couple of innings. I started off shooting at ISO 1250, 1/1600s, f4 with the 1Dx on a Canon 400mm 2.8L IS with a 1.4x teleconverter. White balance was a little tricky with the sunlight combined with the stadium lights. Typically with just the stadium lights, I'd be shooting at around 4800K for the white balance, and in bright sunlight I'd be somewhere around 6200K. For the hybrid lighting during the first few innings, I found 5300K to look pretty good. There's no real science to how I arrive at that. I just take test frames and see how it looks, then adjust accordingly. The Angels' uniforms are predominantly white, so that helps.
I found the images to be really clean at ISO 1250, but that wasn't unexpected. I've heard from many people that the 1Dx is leaps and bounds above its predecessors at higher ISO settings, so I was looking forward to testing that out in the later innings.
Typically, I would never go above ISO 1600 on the Mark IV unless absolutely necessary, or unless I could bring in some of my speedlites to help fill in dark areas. I knew based on talking to others about their past experiences at Angel Stadium that I would probably at least end up shooting at ISO 2500 or 3200, and perhaps even 4000. Before this camera, I would have never dreamed of doing that on an assignment. But, I was optimistic. I wanted to make sure I could keep my shutter set to at least 1/1250s, but preferably 1/1600s. And I knew at some point I would be using the 1.4x teleconverter again, and thus shooting at f4. I didn't have my 2x teleconverter with me to try out, which I really wish I had just to see what the results would be.
As the sun finally set and I was shooting solely with stadium light, I had to adjust the settings a little bit. Depending on the angle I was shooting from, the light varies a little. For the Angels players with their all-white uniforms, I was shooting with the following settings while using the 1.4x teleconverter – ISO 2000, 1/1250s, f4. The Rays players with their blue and gray uniforms required me to sacrifice a little on the shutter going down to 1/1000.
When shooting for a wire service, there are a number of "safe" shots you need to make sure you have before you try to start getting creative and adventurous. A couple good shots of each starting pitcher are namely the first on the list. After that, you start looking for solo stock shots of the big names, as well as trying to get the plays as they happen – home run hit and celebration, throws to first, catches on fly balls, etc… So, once I felt comfortable with what I already had, which was probably around the fifth inning, I started experimenting a little bit and trying out the higher ISO range. I shot a lot at ISO 2500 and noticed absolutely no difference in noise between that and the images I previously captured at ISO 1600 and ISO 2000. So, I decided to step it up once more and shoot the last two innings at ISO 3200. I was mostly focusing on the Rays players then, as they were the eventual winners, so I was shooting at 1/1250s, f4. Again, no noticeable difference in noise levels whatsoever.
It should be noted for all these shots, I have the 1Dx's "High ISO Noise Reduction" setting set to "Low". In fact, the early shots at ISO 1250 and 1600 were shot with the high iso noise reduction turned off completely. I'm not sure at what point it actually kicks in and starts reducing noise, though.
The game concluded before I had a chance to go any higher in my testing, but I walked away from the field that night quite impressed.
I had thought I might need to use ISO 4000 or more at Dodger stadium for the two games I was booked to shoot there, but as it turned out, the light there was even better. I ended up shooting mostly at ISO 2000, even with the teleconverter at f4.
I did end up really pushing the limits of the high ISO during the UFC on FOX open workouts. The shoot took place in a ballroom at the J.W. Marriott hotel where the only light was two dimmed overhead recessed lights and a tinted window. Normally, I would just use my speedlites in that situation, but for this, I specifically wanted to test the high ISO of the 1Dx, so the speedlites stayed in the bag for a while. I shot quite a bit at ISO 4000, 6400, and even a little at 8000. And I must say, I'm very impressed with the results. ISO 6400 on the 1Dx looked very comparable, to my eye, to an image shot at ISO 2000 on the Mark IV. See the Shogun shot at right – ISO 6400, 1/500s, f2.8, available light.
These impressive results gave me a lot of confidence going into the next assignment – Real Madrid v LA Galaxy at Home Depot Center. I had never shot at HDC, but I knew from watching games there that the light was not great. And my eyes didn't deceive me. Once the sun set completely, I was shooting the entire game at ISO 4000. I left the 1.4x teleconverter on my 400 pretty much all night, so I was shooting at 1/1000s, f4. My second body with the 70-200 lens was a Mark IV with set at ISO 2500, 1/1000s, f3.2. I didn't use that one much, but you can see huge difference in the noise levels between the two cameras when compared side-by-side.
The final test of the week would be the fights on Saturday at Staples Center for UFC on FOX: Shogun v Vera. Normally, my settings for a UFC fight on my Mark IV are ISO 1600, 1/1250s, f2.8. That's a little bit under-exposed, but I find the noise to be less than ISO 2000 or 2500, even when you adjust the brightness and contrast in photoshop. So, I started off with my settings on the 1Dx at ISO 2500, 1/1250s, f3.2. And that turned out to be spot-on. The images looked beautiful. Even more importantly though was the improved AF functions. By then, I had become very familiar with the new system and was really able to use it to my advantage. I had far fewer out-of-focus shots than I would consider normal. It's inevitable with shooting fights like that, you're going to miss something or the referee is going to jump in your way. But, I found the 1Dx performed well above expectations in that category. The speed proved to be a huge increase, as well. I shoot pretty much everything now RAW + JPEG, so I only have a buffer of about 17 frames. I try to only shoot short bursts of 3-4 frames. With the 1Dx, it's much faster, so those short bursts sometimes turn into 5-6 frame bursts. But, but the time I was ready for my next burst, the buffer had completely cleaned out again. I never had a "buffering… wait" issue throughout the night. Another really nice new feature that came in handy a couple times was the dual CF card slots. You have several options for how you want them to behave. I elected to set slot 2 as an overflow when the card in slot 1 is full. I only wish that when you have it setup that way, the remaining images counter would reflect the total number of images remaining, not just the remaining images for the current card.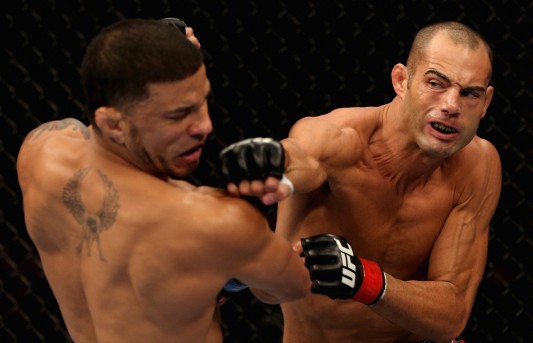 I could go on and on about the merits of the EOS-1Dx, but in short, it's a game-changer. It gives me the ability to shoot in much lower light and produce quality images that are desired by clients. To steal a phrase from a friend, Canon finally got it right. We were all let down with the release of the Mark III, and to a lesser degree the Mark IV. I won't say they've completely made up for all the past issues, but this model certainly goes a long way towards doing so. Furthermore, they've got my attention to be more open to future upgrades.
Sure, it's very expensive. But, if you're even considering this camera as an option, you're aware of the cost, as well as the similar cost of its Nikon counterpart, the D4. It's not for everyone. It all comes down to what you shoot, under what conditions you shoot, and how often you shoot. For me, it was a no-brainer and I really feel it's already proven it's worth and won't take long to pay for itself. I just hope my second one arrives soon so I can relegate the Mark IV to third-body/remote status for good and retire my Mark III's completely.
And, if you're not quite sure about whether it's right for you, why not try renting it to test it for yourself and see. Be warned though, you will probably fall in love with it. Click the banner below to visit BorrowLenses.com for 1Dx rentals and pretty much anything else you could possibly need.