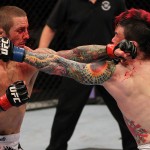 Greetings everyone. I'm writing to you this morning from the Ft. Lauderdale – Hollywood International Airport as I await my 6am flight back home. I barely had enough time to finish and upload my edit before heading to the airport.
The UFC hit South Florida again last night with the rematch of Demetrious Johnson and Ian McCall's controversial 125-pound title eliminator after their first bout in Sydney earlier this year was ruled a draw. The undercard was filled with scrappy fighters who may not be household names (yet), but still bring it.
The biggest surprise of the night, at least in my opinion, was Mike Pyle knocking out Josh Neer in the first round. Neer had been dominating the action and appeared close to finishing the fight himself when out of nowhere Pyle threw a looping overhand right with his back up against the fence and landed it flush on Neer's chin, face planting Neer for the KO with just seconds left in the round.
In another shocking finish, Eddie Wineland knocked out Scott Jorgensen after overcoming a nasty gash he suffered from a Jorgensen knee. This was by far the most impressive performance of Wineland's career to date, and was just as impressive of a performance from Jorgensen up until the knockout. The two were rewarded with the Fight of the Night Award for their efforts.
Young Brazilian Erick Silva was fighting for the first time outside of his home country and he didn't seem to be bothered by any nerves or jet lag as he finished tough wrestler Charlie Brenneman with a rear choke in the first round, adding another impressive finish to his resume.
In the main event, Johnson and McCall went at it again for three fast-paced rounds. This time, Johnson left little doubt in the eyes of the judges, dropping McCall and overall landing much more than his opponent. McCall had his moments, but was only able to win one of the three rounds. After the third round, everybody in attendance wanted it to go to a sudden victory round, but it was not in the cards as Johnson scored a 29-28, 29-28, 30-27 decision victory and earned a shot at the vacant flyweight title against Joseph Benavidez.
Below is a selection of my shots from the night.

UFC on FX 3: Johnson v McCall – Images by Joshua Hedges