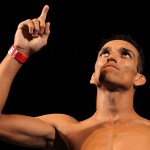 Today, I set out to experiment with light during the official weigh in for tomorrow's The Ultimate Fighter Live Finale card. Unlike previous events I've shot at the Palms Casino Resort, this time the weigh in was held inside the Pearl Theater instead of the small ballroom. As soon as I heard about the location, I decided to bring along all my speedlites, mounts, and FourSquare kits. My hope was that the upper level of balconies would be blocked off, and lucky for me that proved true. So, I carried up my gear to the top level and began setting up my FourSquares.
The balcony section is symmetrical, so it was easy to find a spot equidistant from the center of the stage on both sides to mount the two units. I rigged up two Canon 580EX II speedlites in each FourSquare unit. Communications were handled by the PocketWizard FlexTT5 transceivers on each flash, and a MiniTT1 on my camera. The speedlites were at full power and zoomed to 105mm. The rig was mounted on a rail about 30 degrees forward of the stage and aimed directly at the scale.
I decided to use the speedlites as my key light and overpower the ambient light, which most of the time at the weigh in is a pretty low exposure and a very overhead light casting bad shadows. The ambient exposure was measured at about ISO 1600, 1/400s, f2.8. I dialed in my preferred exposure on the camera and took a couple test shots. Final settings on the camera ended up being ISO 1250, 1/1600s, f2.8. I kept a second camera at my side in case something went wrong with the strobes, I could quickly switch and at least get salvage some sort of shot. I wasn't sure what to expect of the range on the PocketWizard units, especially with the amount of wireless gear in the arena already for cameras and microphones. Everything worked perfectly though, and I made some really great shots on the scale. Unfortunately, the position the fighters were put in for the face off was not the normal mark, and thus those shots were contaminated a lot more by the brighter tungsten lights on the backdrop, creating a mix of color temperatures that was very difficult to correct. Had they been about 6 feet forward on the stage, I think the face offs would have looked a lot better. Nonetheless, those even still turned out ok and I learned a lesson for next time.
Here is a gallery of shots from the shoot. I'd love to hear your thoughts and answer any questions you might have.

The Ultimate Fighter Live 1 Finale Weigh In – Images by Joshua Hedges