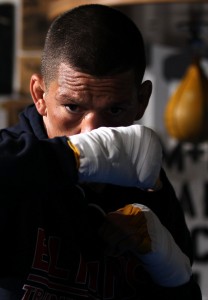 Today was my first day covering events for the UFC on FOX card on Saturday night here in New Jersey. We got up really early this morning to drive into the city to Church Street Boxing Gym where the workouts were being held. This was my first time at the Church Street Gym and I was really impressed with the layout. It worked out really well for my lighting ideas as there was a balcony above the mat area that allowed me to mount a light. My plan from the outset was to shoot everything using high speed sync flash, which I've done several times in the past, but this time I wanted to push the limits even more and try a couple techniques I haven't before.
Aside from a couple minor hiccups in the beginning, everything went very smooth and overall produced the results I was looking for. If I had to change anything, I would have probably narrowed my triangle a little between myself, the fighter, and the light. But I still think this looks really good. Most of these shots were taken with the following settings, though there was some variance – ISO 800, 1/1250s, f2.8, white balance 5600K. The light mounted on the balcony was a single Canon 580EX speedlite, running at 1/2 power. The face of the light was probably setting about 15-20 feet from the center of the mat. For the blurred shots, I used second-curtain sync at 1/15s, f16.
Take a look at the gallery and let me know what you think.

UFC on FOX 3 Open Workouts – Images by Joshua Hedges