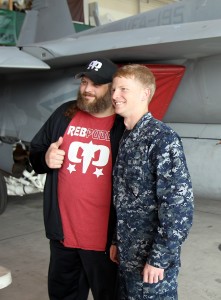 Yesterday morning, we got up at 7:00 to head downstairs for a special appearance with UFC fighters Carlos Condit and Roy Nelson. We met our Navy liaison Jay downstairs and departed the hotel for our adventure. I didn't really know what to expect, other than a long day. We arrived at Naval Air Facility Atsugi, in Kanagawa prefecture, about an hour later and that's where the real fun began.
Upon arrival at the Navy base, we first stopped at McDonalds for everyone to grab a healthy breakfast and coffee, then headed over to the Liberty center, which Jay runs, to meet a couple staff members and gear up for the rest of the day. The center he has put together is really impressive. They have a gaming room with pool tables and foosball; a theater room with a large projection screen, beanbags and lounge chairs, and even a popcorn machine; a separate lounge area with numerous flat screen tvs and massage chairs; and a media lounge where they have a nice array of computers and a mini-music studio with sound-proof booths for drums and guitar/vocals. It was very impressive to see the investment of funds into providing our troops with a relaxing outlet.
Our first stop on the base tour was Strike Fighter Squadron 195 (VFA-195), aka the "Dambusters". We arrived at the hanger just in time as they were sending out approximately 30 F-18's for a training mission. The noise level was deafening throughout the whole visit, but it became apparent right away how special this day was going to be. Seeing the response from the sailors, the smiles on their faces, was awesome. We had limited time with each squadron, so we only had about 15-20 minutes to sit and chat with them. After a group photo, which saw Roy Nelson strap in some headgear and climb atop a plane, we were off to our next stop down the flight line.
Up next was VFA-27, aka the "Royal Maces". This was a slightly smaller squadron, but the sailors were equally enthused. I had a good chat with one of the sailors, "Woody", about various bombs and missiles they had in the hangar. He also gave the chance to see the inside of one of the wings of an F-18 that was being repaired and wanted to show me the cockpit, but due to our limited time it wasn't possible.
After that, we drove down to the end of the flight line to visit VFA-102, aka the "Diamondbacks". Our guide quickly pointed out this was his favorite squadron as it's where he had spent some time during his enlistment. The PAO quickly took us out on the flight line to get an up-close view of one of the F/A-18 Super Hornets and take some pictures in front of it. We came back inside the hanger to do more autographs and pictures, just as some of their planes were returning from the training mission.
After the visits to the fighter squadrons, we headed over to the Navy Exchange (NEX) for another autograph signing and ticket raffle. Troops and their families lined up out the door to meet and greet Roy and Carlos, and through out the time they would draw numbers to give away tickets to the fight. What I saw at the NEX that has left a lasting impression on me is the families behind these amazing troops. It was something else to see all the women and children who are apart of our great military system.
We had a little downtime after the signing, so we grabbed a quick bite to eat at the food court before heading back to the Liberty center for a few more photos with the staff.
Our time at Atsugi was up, so we loaded back in the van for Jay to drive us over to Camp Zama Army Post about 15-20 minutes away. We navigated through various narrow streets until we came over a hill and arrived at the main gate. The security guards examined our official orders and waved us through. We stopped at the PX for an autograph signing with troops and their families. We were here in the front lobby of the PX for about an hour before heading out to the next stop.
We actually had a bit of time before our final scheduled appearance, so our Army guides took us to an on-base sports bar to relax for a bit. We watched the Lakers vs Thunder for about 45 minutes before heading over to the Zama Youth Center.
The Youth Center was a brand new facility, and I must say as a father, I was truly amazed. What they have built for the military children and the services they provide are simply incredible. The facility had a state of the art computer lab, several entertainment rooms with various games for all ages, a homework/study room, a craft room, a ballet/dance room, and a full-court basketball gym with a rock-climbing wall. It made me so proud to see them taking such an interest in the well-being of the children who are effected by their parents' military deployment. It was a very nice cap to an awesome day.
Below is a gallery of images I shot throughout the day.

UFC Japan Base Visits – Images by Joshua Hedges