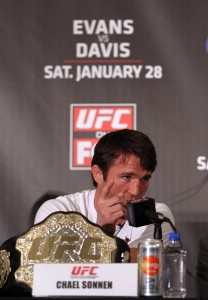 Another frigid day here in Chicago. Today saw us driving a few short blocks to the W Hotel on Adams for the UFC on FOX final pre-fight press conference. Everything was pretty much as expected, except for the extremely low light conditions of the ballroom. I'm not really sure why it was so much lower than normal, but it definitely made for a more challenging shoot.
It came as no surprise to anyone in the room when Chael Sonnen walked on stage with a UFC belt and proclaimed himself to be the undefeated, undisputed Middleweight Champion. Though, interesting enough, he was seated next to Demian Maia, who did in fact defeat Sonnen by submission in the not so distant past. Nonetheless, Sonnen's bantering was quite humerous.
Main event opponents Rashad Evans and Phil Davis got into a verbal sparring match when Davis was asked about whether or not he would defeat Rashad in a wrestling match. As Davis was giving his answer stating of course that he would, Evans interrupted taking jabs at the former national champ. Evans repeatedly said that Davis' technique was "trash" and he could not compete on an international stage. Other than Rashad's poor taste comments at the first press conference in reference to the Penn State scandal, there hasn't been a lot of trash talk between these two. Today saw that change. I think it helped generate a little more interest in that fight, which up until now has been overshadowed by the co-main event featuring Chael Sonnen versus Michael Bisping.
Tomorrow is the official weigh in, which of course, I will also be covering. For now, check out the gallery of shots below from today's presser. they are also available at Getty Images and UFC.com.

UFC on FOX 2 Press Conference – Images by Joshua Hedges