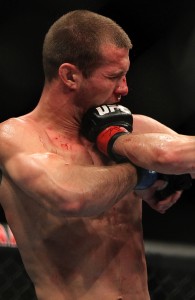 Wow, two blog posts in less than 24 hours. I think I'm finally starting to get the hang of this. Well, as many of you already know, I covered UFC 141 on Friday for UFC and Getty Images. The night was a bit slow starting out, with all the prelim fights going the distance and not a whole lot of excitement. But, in the end, the fight we all were looking forward to – Cerrone vs Diaz – lived up to the hype and then some. While I didn't totally agree with the judges cards (I had Cerrone winning round 2), the right guy (Diaz) got the nod in the end and made a strong campaign for a shot at the 155-pound title.
After the war between Cerrone and Diaz, the main event was very unsatisfying. I didn't expect Lesnar to try and stand with Overeem, and I definitely didn't expect Lesnar to retire after being dispatched. While it wasn't surprising and makes total sense, I just had never thought about it, even given his health issues in recent times. I'm a bit sad to see him go. He's always been friendly to me and has given me some great shots over the years. I am very much looking forward to the matchup between Junior dos Santos and Alistair Overeem though.
Below is a selection of my favorite shots from the night. You can view the full take from myself and my friend Donald Miralle at Getty Images. I will add more to this gallery when I have a chance to look through the overhead remote shots. Special thanks to Rob Tonelete for a great job editing for all four photographers on the night.

UFC 141 Lesnar vs Overeem – Images by Joshua Hedges