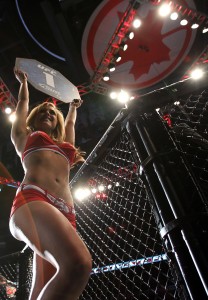 Greetings from not-so-sunny San Diego. I arrived earlier today to cover the Strikeforce event this weekend for Getty Images. And, while I was supposed to be relaxing, I decided to take the time to post the gallery for UFC 140 to my website. I served as second shooter and editor in Toronto, so I was only able to shoot 6 or 7 of the fights, but I was happy with what I did. The Walel Watson vs. Yves Jabouin fight was very fun to watch and shoot, though I thought Watson should have been declared the winner.
As for the three main fights, all three winners were as I expected, but none in the manner I expected. Tito Ortiz was decimated by "Little Nog" Antonio Rogerio Nogueira, ultimately being stopped by punches and elbows on the ground in the first round. "Big Nog" Antonio Rodrigo Nogueira was well on his way to a TKO victory over Frank Mir in their rematch when suddenly he decided to stop punching and go for a submission. Mir quickly reversed, secured a submission of his own, and took Nogueira's arm home to mount above his mantle. Truly gruesome, yet awesome. In the main event, Light Heavyweight champ Jon "Bones" Jones started off slow in the first round against Lyoto Machida, getting tagged a couple times with good shots and seemingly looking a bit "off". He quickly turned it around in the second stanza and put Machida away, choking him unconscious with a standing guillotine choke against the cage.
But, perhaps the most important and looked-forward to event of the night was the return of the ever-popular Octagon Girl Brittney Palmer.
All-in-all, a pretty good night of fights. Can't wait for the Strikeforce fights this weekend with my boy Gilbert Melendez defending his lightweight strap against Jorge Masvidal. And I'm really looking forward to the heavyweight battle to finish off the year at UFC 141 with Alistair Overeem vs. Brock Lesnar.
My favorite selects are below. As always, the full take from both myself and our primary shooter Nick Laham are available on Getty Images.

UFC 140: Jones vs. Machida – Images by Joshua Hedges