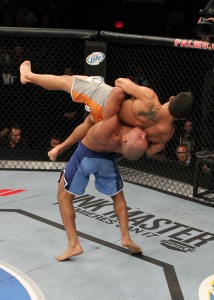 Sorry for the late posting. I'm in Toronto now for UFC 140, which I'm covering for Getty Images and UFC. Last Saturday, I had the pleasure of shooting the live season finale for UFC's reality show The Ultimate Fighter, Season 14. This season marked the first time the Featherweight (145 lbs) and Bantamweight (135 lbs) weight classes were showcased on the popular series, and the fighters did not disappoint. Many people who have followed my days of covering the World Extreme Cagefighting (WEC) know that I'm a huge fan of the lighter weight classes. On this night, they stole the show.
The grudge match between season 14 coaches Michael Bisping and Jason "Mayhem" Miller turned out to be a one-sided squash in the main event. Mayhem tired after a very lackluster first round and proceeded to get pummeled for the next two rounds, finally being stopped in the third round due to unanswered knee strikes to the body on the ground. But, it was the two preceding fights, the Bantamweight and Featherweight finals, that were the real main events on the night. In the Bantamweight final, John Dodson defeated TJ Dillashaw by TKO in a quick bout. Some called it an early stoppage. From my vantage point, I thought Dillashaw was not defending himself intelligently after being dropped with a solid punch. The Featherweight final was surprisingly competitive. I think many people expected Diego Brandao to blow through Dennis Bermudez in much the same way Dodson did in his fight. However, Bermudez was not privy to that plan and came out guns blazing. He landed a number of good shots standing against Brandao and ended up dropping him with a short right hand. Bermudez followed up with some good shots on the ground, but in an instant was caught in an arm bar and in mere seconds the fight was over with Brandao the victor. That earned Brandao the 6-figure contract plus two bonus paydays for Fight of the Night and Submission of the Night.
As usual, the full take is available on Getty Images. Below are my favorite selections of the night.

The Ultimate Fighter 14 Finale – Images by Joshua Hedges