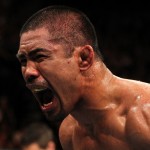 Another great night of fights as UFC 138 took place tonight in Birmingham, England. In the main event, Mark Munoz (right) defeated Chris Leben by TKO when Leben couldn't answer the bell after round two. Apparently, Leben told the doctor he could not see out of his eye. The doctor warned him that if he could not see, the bout could not continue. Leben repeated that he could not see. Up to that point, even after suffering the cut, Leben was doing very well. I'm not sure how the judges scored it through two rounds, but it was a tightly contested bout.
In the co-main event, Brazil's Renan Barao ran his winning streak to 17 straight with a submission victory over England's Brad Pickett. This fight won fight of the night honors, even though it ended inside of a round. Normally I wouldn't agree with such a short fight being awarded the FOTN bonus, but this one totally deserved it. Both guys came out swinging from the get-go and never stopped. Barao landed a huge knee that spelled the beginning of the end for Pickett and led to some punches on the ground, followed by a sick rear naked choke.
Opening up the night was Terry Etim's triumphant return to the Octagon after injury. Etim defeated Hawaii's Edward Faaloloto by guillotine choke in just 17 seconds. Then, Etim proceeded to jump up on the cage right in front of me and celebrate for a good 2 minutes. Etim earned the Submission of the Night bonus for his handy work, and wins my award for Celebration of the Night. Hell, how about Celebration of the Year? Just look at the pictures!
Here is a selection of my favorite shots of the night. The full take can be found on Getty Images.

UFC 138: Leben vs. Munoz – Images by Joshua Hedges