Greetings from Birmingham, England. I meant to get this blog post up sooner, but there just don't seem to be enough hours in the day anymore.
I had a great time again at UFC 137. The main coverage for the event was from my friend Jed Jacobsohn, but I did have a chance to shoot a little bit. My original intent was to run upstairs to the press box and shoot the two Spike TV fights (Tyson Griffin vs. Bart Palaszewski and Donald Cerrone vs. Dennis Siver) with the 400mm lens. However, Bart decided to end his fight rather quickly before I had a chance to get up to the press box. So, I only shot the Cerrone/Siver bout from up top. That one, as well, was a quick one. Nonetheless, I came away with a few good shots.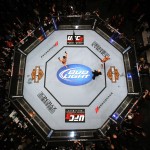 We also mounted an overhead remote camera again in the lighting grid. This time, we went much further out towards the center of the Octagon to achieve the "straight over top" look as best as possible. I used a 14mm lens mounted on a Canon EOS 1DS Mark III. Luckily, we had some good fights and good celebrations. I think we came away with a good amount of winners from the overhead. It's always a gamble, and you can never plan on it being successful. But, when it is, it gives you a good feeling of accomplishment.
I wasn't able to shoot much of anything for the three main fights, due to the internet dropping out in the arena and having to relocate my edit station to the production truck outside the arena. I did shoot a quick shot of BJ Penn's entrance with the 400mm from the floor. I love that lens. Can't wait to try the new version.

UFC 137: Penn vs. Diaz – Images by Joshua Hedges