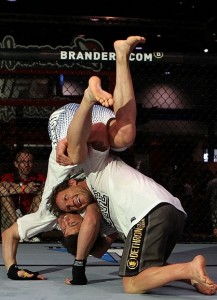 Another day covering UFC for Getty Images. Today featured the UFC 136 open workouts for 8 of the feature fighters on the card. We also got our first peak at the layout for the UFC Fan Expo as the workouts were held in the Octagon inside the George R. Brown Convention Center.
As is typical for open workouts, the available light was minimal. So, I took the opportunity to use my off-camera wireless flash unit which I secured to the top of the cage with a GorillaPod. This made for a highly stylized look that I think turned out great. Not much interesting usually happens at these open workouts. Fighters typically don't do anything strenuous two days out from their fight, so anything you can do to create your own drama helps.
Some members of the Houston Dynamo soccer club were in attendance and came in the Octagon for a publicity stunt that saw featherweight opponents Kenny Florian and Jose Aldo battling each other in a "kick off". Both guys were high level soccer players prior to their fighting careers, so it proved interesting. Though UFC PR guru Dave Sholler declared it a draw, I scored it a clear victory for Florian.
Below is a small selection of my favorite shots from the day.

UFC 136 Open Workouts – Images by Joshua Hedges