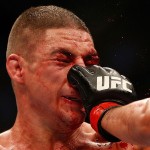 Capping off my "Best of 2013" series of galleries is the one you've all been waiting for. This is a collection of my best fight action images from this year. I limited it to the top 50 images – ok, 52 in total, but one is a 3-image sequence. Some will say that's probably too many, but I had to cut out so many good ones just to get to that number. It's amazing just how many fights I shot this past year.
The obvious choice for my favorite would be the renown sequence of Stefan Struve getting his jaw broken at the left hand of Mark Hunt. But, I have a different one that has stuck in my head ever since I captured it. The Diego Sanchez v Gilbert Melendez fight was one of the best fights of the year, if not in UFC history. As soon as I knew I had this shot (at right), I tagged it and set it aside for this gallery. I knew nothing else would top it.
Here is a slideshow of the full gallery. Please click through to my site and view everything at full resolution to get the full effect.

Best of 2013 – Fight Action – Images by Joshua Hedges