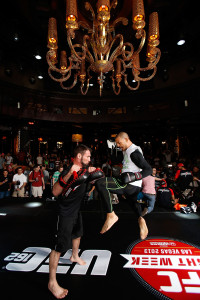 As is often the case with shooting on-location under questionable circumstances, you can only plan so much. Today happened to be one of those cases for me at the UFC 162 Open Workouts. I walked into XS Nightclub at The Encore with the knowledge from my experience of shooting there last July. However, a quick survey of the scene revealed a different setup from last year, resulting in totally different lighting conditions. I always bring along my speedlites whenever shooting a workout because I never know what the light will be like and at least I have the consolation of knowing I can always provide enough light for any situation.
Once I realized how low the ambient light was, I started breaking out my gear and setting up. Shooting in a nightclub can be challenging because those places are designed to cram as many people in as possible and they don't have a lot of secure locations to mount lights or even put up light stands. I could only find one spot within range of the stage to setup a light stand, so I decided to double up my two FourSquare blocks and concentrate all my light into one source. I put the softbox with six speedlites about eight feet off of the back corner, stage-right from my position. My first plan was to be able to walk around throughout the venue and shoot from multiple locations, giving me a variety of angles for my light source. However, once the workouts started, I quickly realized I would not be able to move at all. In fact, I kind of painted myself into a corner standing on the stage, only having about ten feet of movement left and right. The light source was to my right, about twelve feet above the stage hitting from almost a 45-degree angle. So, it wasn't bad at all. I had some great ideas for portrait-style shots I wanted to get while in the midst of the workouts. By the end of the shoot, I found myself scrambling just to make any kind of shots.
The real problems began when Anderson Silva prepared to come on stage. He always travels with a large entourage, and today proved to be the biggest yet. He had about thirty people with him, all of whom would be on the small stage while he was working out. So, I was fighting for space the whole time. Being a 13+ year staffer for UFC provides me with a lot of access, but when Anderson Silva is in the building, all that experience and access means absolutely nothing. His trainers and camp will deliberately move in front of you to prevent you from getting shots so their own photographer (with no credential at all) can get the exclusive shots. They will push you around. They will try to have you kicked out completely. I was prepared for all of this as it's happened several times before, but today was by far the worst situation. Two members of his camp climbed onto the tower where my light stand was mounted and throughout the shoot they used my light stand as an arm rest. So, I tried to keep an eye on that through my periphery at all times. At one point, I was blindly hail-mary shooting over two rows of people who would not let me any closer. Finally, I managed to squeeze myself into a tucked spot on the edge of the mat underneath a documentary camera following his camp. Unfortunately, this meant that I had no chance to get anything of use with 70-200mm lens, which is my lens of choice about 95% of the time. But at that point, I was just in survival mode and wanted to make any photos I could.
When all was said and done, I made it out of the shoot unscathed with a decent take. And all my equipment survived for another shoot. The lesson to be learned here is that you can plan and stress and go crazy trying to make sure everything is perfect, and there will still be a rather large sized monkey wrench thrown in the gears to throw everything out of whack. You just have to go with the flow and try to adapt as best you can. Realize that not every situation will be perfect. But don't panic and just try to look for other angles and options. And don't always count on your subject being totally cooperative. It's nice when they are, but it isn't always the case.
Here is a look at my take from the day.

UFC 162 Open Workouts – Images by Joshua Hedges
Greetings from Tokyo, everyone. As I sit here in the airport lounge awaiting my flight home, I'm catching up on the social media happenings from last night. A couple of my shots from the Mark Hunt vs Stefan Struve fight have received quite a bit of attention.
So, I thought it would be a little fun and interesting to start a new feature on my blog where I give you a little insight into what I was thinking and how I made a particular picture. I'm going to call it "How I Got The Shot". This could be a one-and-done thing, but I hope not. Hopefully some of you find this educational.
For anyone who may not know what I'm talking about, here is "The Shot" from yesterday's UFC on FUEL TV 8 even in Saitama, Japan.
I wish I could say I planned everything out perfectly and positioned the fighters exactly where I wanted them, but it just doesn't work that way. There are so many variables that are within my control. I'll start with the basics and work my way towards the actual sequence that ended the fight.
First and foremost, you have to get your exposure right. This is a very easy task, but one that people somehow still mess up frequently. UFC has a very consistent lighting scheme for all their shows. I know before I walk into the arena on fight day what I'm going to set my camera to before I ever fire a shot. And, for the most part, it doesn't fluctuate much from venue to venue or country to country. I can usually count on the following being my settings for the night, within about 1/3 of a stop over or under – ISO 3200, 1/2000s, f2.8, 3400K white balance. I set all three of my cameras to this exact setting at the start of the night.
Before the fights even start, I try to take test shots under the full show lighting setup. This means being at the arena during walk-in rehearsals, which are typically 2-3 hours before the first fight. This gives me a chance to not only check the exposure, but also to check the white balance. UFC uses tungsten lights for all the overhead lighting in the truss, though the blue color of the canvas mat tends to skew it just a bit. I find that setting the white balance manually to around 3400K provides me with the look I prefer. Using the "tungsten" setting in camera (approx. 3200K) looks too cool to me. Sometimes, the color fluctuates too depending on the age of the lights and whether or not the riggers used any gels when hanging them. So, it's always good to check. Just a side not too, I know a lot of people who set custom white balance using a white piece of paper or a towel. If that's what works for you, that's fine. I feel like that also is too cool for my taste, so I choose to do it manually. Look at the images on your computer screen too, not just the back of your camera, to decide what looks right.
Ok, so we've got the exposure and white balance dialed in, time for some fights. My assignments always require me to shoot every fight. I sometimes wish it could be like in boxing where people only really care about the main event or the last couple fights. But then again, there have been plenty "Fight of the Night" awards handed out for the first fight of the night. And for this fight in Tokyo, that looked to be the case as Marcello Guimaraes and Hyun Gyu Lim put on a nice performance in the opener. It will likely take you some time to get your timing down and figure out any focusing issues throughout the night. This is where it helps to have a number of preliminary fights before the "important" fights.
I had some good moments throughout the night, but I didn't really feel like I had my timing nailed down until the Diego Sanchez v Takanori Gomi fight. Diego's fights are always good for photographers. He comes forward, stays in the pocket, and has a really good chin. If you can't make at least one good image from a Diego Sanchez fight, maybe you should think about trying something else. Or maybe you were stuck behind a pole and in a bad position for all the good action.
Anyways… Mark Hunt v Stefan Struve followed the Sanchez v Gomi fight. Hunt has been loved by Japanese fans for years from his days of fighting in K-1 and Pride. He's always had an exciting style. You never have to guess how a Mark Hunt fight will go. He will get hit and he will hit back harder. His fights are typically either a test of how good his opponent's chin is, or if his opponent would like to showcase their grappling. Knowing this about Mark and having shot a number of his fights, I found myself "sitting on" him, in a matter of speaking. What I mean is that I would put one of my focus points on his face at all times and track him waiting for him to throw something. Unless of course he was turned away from me, then I would follow Struve for those few moments.
Just before the ending sequence, the guys were a little bit more than 15-feet away from me when Hunt threw a big right hand that landed flush. I had a bad angle for it, Hunt was completely hidden and all I saw was Struve's back, so I didn't fire my camera. But looking through the eye-piece, I noticed this look on Hunt's face as Struve absorbed the shot without going down. If I could put it into words what his face said, it would be "What the hell do I have to do to beat this kid?" At that point, I told myself to get ready. I had that feeling he was going to throw another right with even more power than the previous shot.
I was right. Hunt blasted Struve with a massive right hand, followed by a ridiculous left hook. My angle was still not favorable for the first sequence, but I managed to capture it nicely still. I caught these in two 3-shot bursts. For the first sequence of the right hand, I had my focus point over to the right side of the viewfinder up a little from center, dead on Hunt's face as he launched the punch. I did my best to keep tracking him with the AF point, but to be honest, I'm surprised any of the shots after the first were sharp. For the second sequence of the left hook, you can see the second frame is not as sharp. The action was so fast, I couldn't switch the AF point and remained on the right side. So then Struve jumped into focus. Below are scaled down shots of each sequence. These are exactly as they came out of the camera, only sized down. No sharpening or cropping at all.
Click on the images to blow them up larger.
Aside from the focus, I also got really lucky with the distance. Had the final shot been just a few inches closer to me, my 70-200mm lens would not have been able to focus and I would have been out of luck. Sometimes, you have to decide when to switch or when not to switch to your wide-angle lens. I made the decision to stick with the 70-200 as soon as the first punch landed. It cost me the chance to get any sort of jubilation shot immediately after, but I think it was a worthwhile sacrifice.
Once I did switch over to the wide angle, I was able to catch this gem of Struve telling Herb Dean his jaw was broken.
And that's how I "Got The Shot". Hope you enjoyed reading. Feel free to leave me any comments or questions.
Photographers often stress too much on assignments about the job and overlook little things. I won't pretend like I don't do it myself. Especially when it's a last-minute job or I'm working under a serious time crunch. So, I wanted to put together a blog post reminding us all to remember the little things that will in turn make our photos, and our work in general, better.
Synchronize Your Clocks
One of the first things you should do on an assignment, perhaps even before you leave for your assignment, is to synchronize your camera clocks to the local time where you will be shooting. Make sure all cameras are perfectly synced to each other, as well. When your assignment involves multiple cameras, everyone's clocks should be synced. This will be a tremendous help for your editor(s) and is just a good practice for organization purposes. When you're working for wire services, the less the desk editors have to mess with, the better. So if you send in files with correct dates that match the captions, they will spend less time processing the files and get them posted and out to clients faster.
Clean Up Your Background
This is something that I never really paid a lot of attention to in my early years, until I started working for Getty Images. I think a lot of photographers are the same. We all worry about the immediate subject we are shooting, rather than the whole scene. Sometimes, obviously, backgrounds can only be cleaned so much. You'll notice a lot of my UFC shots have annoying bright-colored banners in the background. I try to eliminate them when I can, but there are just so many that it's impossible to have a completely clean background. If I only transmitted completely clean background images from a UFC fight, I would have a take of maybe 4 or 5 photos. So, you have to accept that it's not always going to be possible. But, you should also do whatever you can to put yourself in the best position to obtain a clean background. Some things you can do include shooting with a wide aperture to get a shallow depth of field, get low and shoot upwards, or get high and shoot downwards. Sometimes, the background helps make the shot too, so you have to always be looking for things like that. When a fighter jumps on the cage to celebrate after a big knockout, the first thing I do is grab a quick couple of frames of him that captures his immediate emotion. After that, I look in the background and start looking for pockets of light that hit the crowd who are also going crazy. It doesn't always work out, but sometimes if I catch the light right and the fighter is looking in the right direction, it makes for a cool frame. Even though the background is not really clean. But, in general, you should always try to produce as clean of a background as possible.
AF Focus Points
This seems to be one of the more difficult concepts for newer sports photographers to grasp. I was guilty of this too, in my early days. For most sports, I would always suggest shooting with a single AF focus point. You want to make sure that focus point is sitting on whatever it is in the frame that you want to be in focus. Typically, this is the face of the subject. Obviously, it's not always easy to keep the AF point on the subject's face, and sometimes there is not much contrast in the face to be able to quickly grab focus. If you're shooting football or baseball, you can put the AF point on the center of the player's chest. There's usually good contrast with uniform numbers and logos to be able to quickly grab focus, and most of the time, the depth of field is good enough to allow the face to still be pretty sharp. The main point of what I'm trying to say here though is that you should not just set your AF point to the center and leave it there. Learn the functions of your camera and move the AF point around. Program registered AF points that you can quickly switch between. You will see an immediate difference in your results if you're accustomed to focusing with the center AF point and re-composing the frame.
Set The Correct White Balance
Again, this may sound like a given, but I can't tell you how many people I've ran into who don't understand anything about color temperature and white balance. One of the first things you should do on an assignment is set your white balance correctly. Avoid using auto white balance (AWB) at all costs. Obviously, there are some situations where AWB might be the best option, but in general, it is not. Learn the color temperature of different types of lights and set your white balance manually. Use your preview screen for fine tuning. You can develop your own style and preferences from that too. For example, normal daylight color temperature should be somewhere around 5600K. However, when I'm shooting in direct sunlight, or with daylight balanced strobes, I prefer to set my white balance a little warmer and typically end up somewhere around 6300K. There are various tools on the market that allow you to "auto-magically" set a custom white balance, too. I don't have an issue with these most of the time, but I would still recommend you learn about color temperature and know how to set the white balance manually.
Off-Camera Flash > On-Camera Flash
If you must use a flash, take it off camera when possible. Get an off-camera flash cable, wireless transceivers, or wireless flash. I'll steal a concept from one of my mentors, Dave Black. Think of your lighting scheme in terms of a triangle. Your camera is one point of the triangle, the subject is another point, and the flash is the third point. If the camera and the flash are on the same point, the results just don't look good. It could be as simple as hand-holding the flash and moving it a foot or two to the left of the camera. Just try it out and look at the results. Compare it to an on-camera flash shot. You will never go back once you see the difference.
Only Transmit Sharp Images
I know this sounds like a no-brainer, but I can't tell you how many times I've seen people transmit images that are not sharp. Most wire services will reject images that are not sharp. Every editor has a different idea of what is sharp, but you should always make it a priority to send the sharpest images possible. If an image is soft, figure out why and work to improve it next time. You should get in the habit of checking your images on the back of your camera. Zoom in to 100% and check to see how sharp it is. Don't think just because it's only going on the web it's ok. Soft is soft, and no amount of unsharp mask can fix that. And the solution is not to just shoot everything at f8. Whatever it is you shoot, whether it be fights, baseball, hockey, whatever. Take your camera and lens that you will be using. Set the settings to exactly what you will use for the assignment and under the exact lighting conditions you will use, shoot something or somebody that is completely still. Zoom into that image at 100%. Unless your camera or lens has some sort of issue, that is what a sharp image should look like. So as you're shooting the rest of the assignment, review from time-to-time and make sure your images are relatively close in sharpness to that image.
Always Be Prepared
You should always do everything you can to be prepared for an assignment. Do your homework. Get to know your subject. Depending on the assignment, this could mean a number of different things. If you're shooting somebody's portrait, try to learn a little about the person. See if you can learn a little about their personality, their likes and dislikes, their quirks. Don't be an ass-kisser, but it never hurts to be personable and try to make your subject feel comfortable. If you're shooting a sport you're not familiar with, doing your homework means you need to get familiar with the sport. You need to learn the rules. You need to know what to look for. Where do the big plays happen? When and where are you likely to see celebration? Who are the key players? Are there any records that may be set or broken? Point is, don't just show up without having done some research and homework. You don't want to be stressed trying to figure things out as the shoot unfolds. I see this all the time and I think it really hinders the quality of images the photographer produces.
Quick update after my first flight en route to London on a United Express Embraer 120 turboprop. The gate agent asked me to check my StreetWalker HardDrive but I insisted it would fit under the seat if not in the overhead bin. These planes have notoriously small bins that fill up fast so they encourage everyone with a carry-on larger than a purse to check their bag. This is where frequent flyer status comes in very handy. I was first to board and took my exit row seat. The bag fit perfectly under the seat. So I decided just for fun to try to fit it in the overhead bin. Perfect fit again. Didn't even have to remove my laptop to condense it. Another check in the "plus" column for the ThinkTank StreetWalker HardDrive.
By now, everyone knows what a huge fan I am of ThinkTank Photo and their products and service. In my opinion, they make the best bags and attachments, hands-down. Over the years, I've collected quite an assortment of ThinkTank items. Over the past few months, my trusty Shape Shifter backpack has started to show its age and I had begun looking at options for a replacement. I've spent several weeks looking at various different options and talking to a lot of colleagues to get their insight on what they like and don't like.
My ultimate goal was to replace the Shape Shifter with a backpack that I could fit even more gear into. I almost went with Dave Black's method of using a hiking pack and just wrapping all my lenses and cameras in Domke wraps. His method is definitely the most efficient means of transporting a lot of gear in a carry-on size bag. But, I'm a creature of habit. Over the years, I've become quite dependent on the divider system found in most camera bags.
One of the top bags on my list to look at was the ThinkTank StreetWalker HardDrive. My interest got back to the ThinkTank staff and they were gracious enough to overnight me a bag to demo and review.
My first impression upon opening the box was that the bag was much beefier than my Shape Shifter. Though in terms of size, it's not a whole lot bigger than a fully-stuffed Shape Shifter. I quickly started configuring the dividers and tried to fit all my everyday gear from the Shapeshifter into the StreetWalker. This mostly consists of things like hard drives, laptop chargers, extension cords, wifi adapter, phone chargers, headphones and various cables. All that didn't even take up half the space in the bag. I was then able to add one of my 1Dx bodies, two lenses, three pocketwizards and trigger cables, extra batteries, and my wireless mouse. And of course, my Macbook Pro went into the separate dedicated laptop slot.
The next test was to see how much heavier it was than the Shape Shifter, and it wasn't a huge difference. The Streetwalker feels much more comfortable on my back, though. The more rigid design helps distribute the weight better and it doesn't seem to have as much of a tendency to sag.
I'm leaving for London for my first assignment with the new bag on Monday, and I'll be able to provide a little more information on how well it travels on planes. I don't suspect I'm going to have any issues. The Streetwalker is a few inches taller than the Shape Shifter, so it may not be allowed to go under the seat. It's rare that I travel with a bag under the seat anyways, so that won't be a big deal for me. So far, I'm liking the bag a lot, and I'm looking forward to putting it through the paces over the next few weeks.
I apologize for neglecting my blog so badly the past few months. I promise to do a better job and keep everyone better informed of my whereabouts around the globe in 2013 and beyond.
As you may or may not know, I'm smack in the middle of a 15 day road trip. I spent the first 9 days traveling to and working in Sao Paulo, Brazil. This was the first time I had ventured outside of the airport in Sao Paulo, and I was pleasantly surprised. The weather was the first surprise. We were met with rain as soon as we walked out of the terminal to get our car, and for the most part, the rain didn't let up for the rest of the trip.
The one thing I was told about Sao Paulo before I arrived was that the traffic is even worse than Rio de Janeiro. I don't know if I just have good luck or people were lying to me, but I found that statement to be completely false. It took only 25 minutes to get to the hotel from the airport, and all our journeys between the hotel and the various shooting locations were much quicker than planned, as well.
The skies parted for a few hours last Wednesday for the UFC open workouts at Parque Anhangabaú near the city's center. The usual cast of characters, including the main event and co-main event contestants, and a handful of local talent, put on a show for the crowd that gathered. The location was pretty neat, and the weather was much more accommodating than I have been used to during outdoor workouts in the past.
After the usual pre-fight routine of portraits, press conference, and weigh-in, it was finally fight day. I headed over to Ibirapuera Gymnasium way early to get a lay of the land and scout locations for remotes. Unfortunately, I couldn't find a spot I felt was safe to remove a remote unattended throughout the night, so I canceled that idea.
The first preliminary fight started about 8:45 pm local time. With eleven fights on the card, it was shaping up to be a long night. The arena was more than half full for the first fight and the fans erupted when their countryman, Francisco Trinaldo, finished C.J. Keith with an arm triangle choke. For the most part, the crowd was pretty calm after that, until Sao Paulo and TUF Brasil 1 finalist Daniel Sarafian entered for his bout against C.B. Dolloway. Unfortunately for the crowd, Sarafian came out on the losing end of the decision and the fans showed their displeasure by booing Dolloway so loudly that I couldn't hear a word he said in his post-fight interview.
Finally, at nearly 1:30 am, it was time for the main event. Michael Bisping walked out first to a strong chorus of boos. His opponent, Vitor Belfort was met with a nice reaction from the crowd, though nothing like Sarafian experienced. Vitor looked fired up and ready to destroy.
And destroy he did. Belfort controlled the action in round one, landing a number of significant kicks and punches. Then, in round two, he unleashed a left high kick to the side of Bisping's head, putting him down on the canvas. Belfort followed up with a series of hammer-fists forcing referee Dan Miragliotta to stop the fight. The crowd went nuts, as did Vitor.
After completing my edit and packing everything up, I was en route back to the hotel by 3:30 am. I had some more work to do once I got back, so I didn't finally make it to bed until sometime after 6:00. My alarm rang bright and early at 9:00 am for my next assignment. I headed back to the arena to cover the elimination fights for TUF Brasil 2. And that's about all I can say about that for now.
The next two days were also spent covering various aspects of the upcoming reality show, until I was finally in a car headed back to the airport about 5:30 pm Tuesday evening. I flew straight to Chicago for this week's UFC on FOX card; landing at about 6:00 am local time Wednesday morning after an 11-hour flight. I had just enough time to get to the hotel and take a shower before I was back in a car headed to the UFC Gym for the open workouts.
This particular UFC Gym location had just been transformed from it's previous moniker, LA Boxing. I mean that literally as apparently they were still under construction the day before. Everything had that "brand new, wrapped in plastic" smell. I did a quick once-over and decided on locations to place a few speedlites. The overhead florescent lights did not provide the look I was going for, so of course I came prepared with four of my Canon 600EX-RT units. And, for the next four hours, I clicked away as various fighters cycled through the gym to workout for media. The whole day was really a blur, but I actually came away with several shots I was happy with.
After the workouts, I headed back to the hotel to work on my edit and finally had a chance to relax and take a look out the window. It had just started snowing. It was then that I realized less than 36 hours before, I was wearing shorts and flip-flops. Now I was freezing in my hotel room and couldn't get the heater hot enough.
The usual press conference followed on Thursday, and today saw us head back to the Chicago Theatre once again for another weigh-in. I love it when we do weigh-ins inside these old historic theatres. They create such a cool atmosphere and make for really nice wide photos.
All fighters made weight and nothing much of interest happened, other than a moment of uncertainty before Quinton "Rampage" Jackson stepped on the scale for his final UFC weigh-in. He appeared to apologize to the commission official and UFC coordinator Burt Watson, and you could see Watson was visibly upset as he stepped back while Rampage hopped on the scale. But then the weight was announced as 204 pounds. I'm not sure what exactly was said, but I was expecting him to be well overweight after seeing that unfold. After making weight, Rampage proceeded to get in the face of his opponent, Glover Teixeira, and give him a tongue-lashing as they faced off.
Tomorrow is yet another early call to head over for a long day at the arena. I'll do my best to get some shots up before I head back home Sunday morning. But, until then, I leave you with a few slideshows from the last couple weeks.

UFC on FX 7 Open Workouts – Images by Joshua Hedges

UFC on FX 7 Weigh-in – Images by Joshua Hedges

UFC on FX 7: Belfort v Bisping – Images by Joshua Hedges

UFC on FOX 6 Open Workouts – Images by Joshua Hedges

UFC on FOX 6 Weigh-in – Images by Joshua Hedges
I write to you today from sunny, beautiful Australia. I'm in the Gold Coast (Surfers Paradise) for the finale for The Ultimate Fighter: The Smashes on Saturday. I flew down here straight from Seattle following UFC on FOX 5 and went straight to work, so I haven't had much time to work on a proper blog post.
I'll spare you a long-winded writeup and just get to the good stuff. UFC on FOX 5 featured a great night of fights, which capped a fantastic week that I was able to share with my wife in Seattle. I covered the fights alongside longtime Getty staff photographer Ezra Shaw. Here's my favorite shot from the night.
And here's my full slideshow from the night.

UFC on FOX 5: Henderson v Diaz – Images by Joshua Hedges
Sunday morning, I left Seattle destined for Gold Coast, Australia. My itinerary saw me layover in San Francisco for about 5 hours, followed by a 12-hour flight to Auckland, New Zealand and another 3 hour layover there. I finally arrived in Gold Coast mid-morning Tuesday. Upon arriving at the hotel in Surfers Paradise, I was presented with some of the best working conditions a man could ask for.
While I haven't had much time to venture out and see any sights, just the fact that I can wake up and open my blinds every morning to this view makes the workday seem so much easier.
On Wednesday, I spent the day shooting portraits of various fighters on the card. Nothing too exciting, though it was nice to see all the guys again who I worked with at the beginning of filming for TUF: The Smashes. Everyone is in great shape and excited to put on a great fight.
Thursday saw us drive out to Boonchu Muay Thai for the open workouts. The gym is owned by legendary Aussie fighter John Wayne Parr. It was a pleasant surprise when the man himself greeted us upon arrival and welcomed us into his gym. It's a very small gym in a warehouse complex, but it worked out great. 8 fighters from the card worked out in some form or another. Some only shadow boxing, others a little more intense. Here is a slideshow of shots from the workouts.

UFC on FX 6 Open Workouts – Images by Joshua Hedges
And today saw the fighters all hit the scale for the official weigh in ahead of tomorrow's fights. All fighters made weigh on their first try and there were no big surprises. TUF Smashes Coaches Ross Pearson and George Sotiropoulos capped off the weigh in with a heated staredown. Below is the slideshow of images from the weigh in.

UFC on FX 6 Weigh In – Images by Joshua Hedges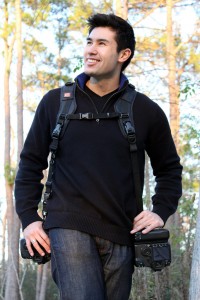 I was recently turned on to CarrySpeed straps by a recommendation from photographer Gary Fong. For several years, I have religiously used BlackRapid straps for all my assignments, and for the most part, have been happy with their performance. Sure, there have been some nuances here and there, but overall they served their purpose. I turned a number of people on to BlackRapid, though I had no agreement or compensation to do so. I just liked their stuff. Now that those straps are getting old and worn out, I'm in the market for a new set of straps. I thought before buying more straps from BlackRapid, I would see what else is on the market before investing more money in gear.
I will make the same declaration here before I start getting into the meat of the review. CarrySpeed has not compensated me in any way, and I have no agreement or deal with them. I bought these straps with my own cash to try out, and I feel obligated to give an honest review.
After careful consideration, I decided to order the FS-PRO camera sling strap, as well as the CS-Double 2-camera strap system. I also purchased a handful of various mounting plates and adapters for all my different bodies and lenses.
The customer service from the start was quite pleasant. I placed my order on a Wednesday before my trip to China. I wasn't sure if they would arrive in time, but had hoped for the best. I was very surprised when they arrived the next day. I unpacked everything right away and familiarized myself with all the pieces and assembly. CarrySpeed pays close attention to the small details. The straps were packed neatly, with all pieces wrapped and labeled individually; along with a complete and detailed instruction set for assembly and operation. Unfortunately, I didn't take any pictures of the unboxing. Frankly, I was too excited to get them out and use them.
Setup took just a minute or two, and then I was able to attach the cameras and begin adjusting the straps. The construction is very high quality. They are very comfortable on the shoulders, especially the double strap. There is quite a bit more padding than other straps on the market, and they are very beefy and secure. Additionally, the FS-Pro has a non-slip material on the underside of the strap that really does a good job of keeping the strap in place.
One simple piece that I'm really happy with is the strap lock that you use to set the position of the camera when it hangs to your side. On other straps that I've used, this lock was weak and would often come unsnapped so the camera would just slide all around and pull the strap forward or backward off your shoulder. In fact, on all my BlackRapid straps, I gaff taped all the strap locks to stop them from coming undone. There is no fear of that on the CarrySpeed straps. Their locks are much stronger and stay put when you lock them. They hold so well that they take quite a bit of force to get them unlocked if you need to move them. That's a good thing. This is one of those things that you're going to set it once and not want to mess with it again.
All the straps have double stitching, and the quick release buckles have an extra locking mechanism as a failsafe for the straps. The fact that the straps are detachable is a wonderful feature in itself, and the extra locking mechanisms to prevent them from accidentally becoming unhooked are a great extra bonus.
Installation of the various ballhead attachment points is straightforward and easy. They've made all the slots in the screws wide enough for any coin to fit in, so you don't have to go hunting for a screwdriver to make adjustments or install/uninstall them. Of course, I'm more likely to have my leatherman on me than a coin these days, but that works just as well.
There are various different types of attachments to mount on the bottom of your cameras and lenses, and all have their benefits depending on the situation and how much money you're willing to invest.
I elected to install the offset folding camera plate on the bottom of both my Canon 1Dx bodies, and the standard offset plate on the bottom of my 70-200mm lens. The folding post is a brilliant feature. I really love the flexibility of that plate, and I like the creative thinking of the designers who came up with the idea.
A big advantage CarrySpeed offers over many of the other strap makers in this class is the offset mounting points on the plates. This allows you to leave the plate mounted to the camera or lens when you want to attach it to a tripod, monopod, floor plate, or anything else using the 1/4-20 mounting screw. For me personally, this isn't a huge advantage, but I do use a tripod from time-to-time. For others who use a tripod more often, this will be a welcome feature to improve efficiency.
The camera plates do present one challenge for me, though. The cameras don't fit into my ThinkTank bags quite the same as normal now with the mounting plates attached. I could always take the plates off every time I pack the cameras, but that becomes tedious after a while, and sometimes you just don't have the time to fiddle with it. Luckily, I was able to adjust the dividers a bit and flip the camera position to fit comfortably, and thus far it has worked just fine.
One note on the installation of the folding offset plate. At first, it might seem like the proper way to install the folding plate is with the ball joint folding towards the back of the camera body. This is not correct though and will create some issues for you if you try it. I wanted to try it both ways and see what was more comfortable. I can't see a reason you would ever need to turn it around facing the rear of the camera. Just point it forward like the photos illustrate in the instructions and on their website.
Now, the folding plate is a bit bulky and is a little awkward to hold when shooting vertically. Not a huge issue for me, it just takes a little getting used to. I have big hands, so perhaps it could be more of an issue for people with smaller hands.
The Ball joint locking mechanism itself is very secure and I feel much more comfortable letting the camera drop during a quick change. However, the ball joint presents a few challenges – 1) there is not a lot of side-to-side play in the ball joint, which is good because it prevents the metal pieces from contacting the camera or lens and scratching them, but it also is a bit awkward feeling at first. After a bit of use, I got used to the new feeling pretty quick; 2) connecting and disconnecting the ball joint is tough to do quickly, if you don't plan to remove the cameras at all then it's fine, but I find myself throughout an assignment removing my cameras and re-installing them from time-to-time. After a few hours, I was able to get it down pretty good. It would be nice, though, if there were some soft of quick connect/disconnect mechanism.
The two straps come with an additional support strap for telephoto lenses. I personally won't use this a lot for my own assignments, but I could see if being a nice feature for someone taking strolling through a park or zoo taking scenic pictures with a longer lens. Nonetheless, it's another creative thinking solution by the design team, and it comes free with the straps.
My only real complaint about the straps is the length. Being tall, my biggest complaint with all camera straps of this style has been that they are not long enough to hold the cameras at a comfortable position on my hips. I would like to see the straps be 4-6 inches longer with the ability to cinch up some slack. This is more an issue with the single strap, but would also be nice to have the length a little longer on the double straps, as well. Perhaps maybe an option to have custom straps made would be a possibility, or even just an extra strap spacer that could be clipped into the triple-locking release buckles. I would gladly pay a few bucks extra for this.
I was able to put these straps through their paces for a week in China covering the UFC Macao event. All in all, I am very happy with the CarrySpeed straps and would gladly recommend them to anyone in the market for this type of strap. I will be keeping my eye on them for future products, enhancements, and improvements; and I will definitely be purchasing more equipment from them.
For more information on CarrySpeed straps, check out their website at www.CarrySpeed.com.